Art and Design Department adds new concentrations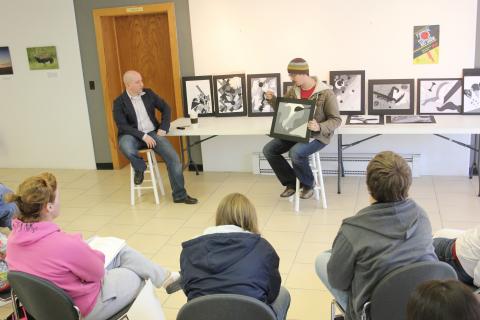 The Art and Design Department is growing with the addition of three concentrations available to students beginning in the Fall Semester. 
The department is adding concentrations in illustration, drawing and painting, and self-directed study to join the current options of graphic design, fine art and studio art, ceramics and sculpture, and art and design education.
According to Daniel Swartz, chair of the art and design department, each new concentration allows students to explore a specific area of art that was not previously covered. Students interested in visual storytelling can focus on illustration. This concentration will cover children's books, editorial illustration, product illustration and concept art for video games and movies.
"With the growth in interactive children's media for tablets and smartphones, and the increased budgets in both video games and movies, more and more opportunities are becoming available for visual storytellers and those who can articulate their vision and creativity in a tangible way. Offering an illustration concentration opens doors up for students interested in those fields as well as the more traditional forms of illustration."
Drawing and painting is available for students who want to pursue graduate work in either of those areas and will help the student generate the portfolio work necessary for application and admission into a master's or master of fine arts program.
The final concentration, self-directed studio, allows students to choose their final studio courses according to their individual interests.
Swartz said, "By providing this self-directed track, students have the ability to explore the arts and discover an interest in a specific area. This concentration is directed toward students who want to try various forms of art before they choose which studio classes they want to further pursue.
"We are excited to expand the opportunities of study for our art students in both the fine and commercial art areas," said Swartz. "These new concentrations will allow our department to continue to grow and appeal to a wider demographic of dedicated student artists."