Art is a Joint Endeavor for Sterling College Associate Professor of Art David Harmon and Artist Susan Harmon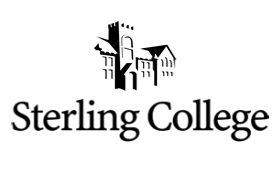 Though self-proclaimed "loner" artists such as Degas, Gauguin, Monet, and Van Gogh-to name only a few-felt that solitude was necessary to produce art, Sterling College Associate Professor of Art David Harmon and artist Susan Harmon would agree more with French writer Honore de Balzac, who said, "Solitude is fine, but you need someone to tell you that solitude is fine." Actually, David and Susan Harmon say that living and working with a fellow artist does more than protect their sanity; it has great benefits for the art they create. "We work separately, but we critique one another's work in a very open way. We are strong, independent artists in our own right, but we really value one another's opinions," said David Harmon.
Both Harmons are successful artists, and each regularly has work accepted in juried national exhibits. (Through October David Harmon has a drawing in a show at the Gertrude Herbert Institute of Art in Augusta, Ga., and Susan Harmon recently had work displayed in a group exhibition at South Texas College.) "Sometimes it can get competitive if we are applying to the same competitions," said Susan Harmon, "but usually not, because we fully support each other."
"True love can transcend ego and help the other person out," added David Harmon.
The couple met in January 1981 while each was doing graduate work at Penn State University. When they "picked up" a two-person exhibit in New York City, they had to drive through a snowstorm together. "We bonded," said David Harmon, "and we knew we could endure a lot as a couple."
It has been better than "endurance." "Not everyone would understand it when I run down to the studio at 1 a.m. and get paint on my feet and arms and everywhere," said Susan Harmon. "We share the same passions for looking at art, reading about art, living and breathing art."
Sometimes they share more than just the same passions. From October 15 through November 16, they have a two-person show at the Hays Art Center in Hays, Kan., and in January and February of 2011, they will do a two-person show at the Air Force Academy in Colorado.
Individual successes, joint exhibitions: they are all a part of the shared life they have created. Susan Harmon said, "We are totally dedicated to and involved in the process of making and creating art. Living with someone who understands this is a unique situation."
For nearly 29 years, the Harmons have been developing their art in this "unique situation," a very different kind of life than the solitude so praised by many other artists. Robert Louis Stevenson said, "There is a fellowship more quiet even than solitude, and which, rightly understood, is solitude made perfect."
Or, as Susan Harmon puts it: "It's cool to love something so much and then share that love with someone you love."