Catholic Student Association Travels to Monastery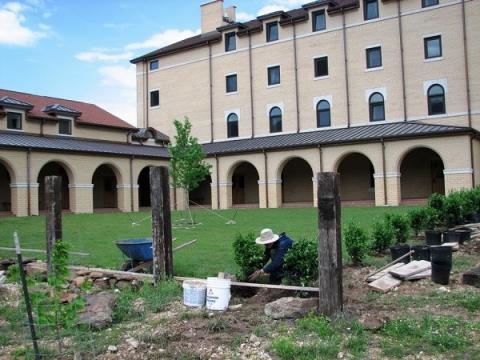 Tuesday, November 22, 2011
Sterling College students found themselves presented with a unique opportunity this fall. Mike Redondo, President of the Catholic Student Association (CSA) on campus, was looking for opportunities to get to know some of the Catholic students better and found the perfect solution through a road trip to a monastery.
Sam Cline of the Catholic congregation in Lyons approached Redondo about taking some SC students, and whoever else wanted to go, to visit Our Lady of Clear Creek Abbey in Tulsa, Okla. Cline had taken groups in the past and thought it would be a good experience for the students.
When Redondo started asking around, he found that there was enough interest to take a group along. "Surprisingly, only two of the students who went were Catholic, and only one of the students was male," says Redondo. "Everyone really seemed to enjoy themselves and a large portion of the group seemed interested in going back next year. Even though the dynamic of the group was unique, the trip was still fruitful."
The group left campus early in the morning on October 19 and returned in the evening of October 21. While there, they participated in Latin mass and community service at the sister convent that was across the road from the monastery. The girls made cookies and soaps for the nuns to sell while Cline and Redondo worked in the yard. Redondo also was able to have meals and engage in morning and evening prayer with the monks.
Among the group were Mike Redondo of Norco, Calif., Kayla Miller and Kristen Wiens of Nickerson, Kan., Cassandra Gwynn of Lyons, Kan., Jennifer Vogt of Caledonia, Mich., Meredith Macek of Houston, Texas, and Whitney Dautel of Sterling, Kan.