Classic musical to be staged at Sterling College Theatre this weekend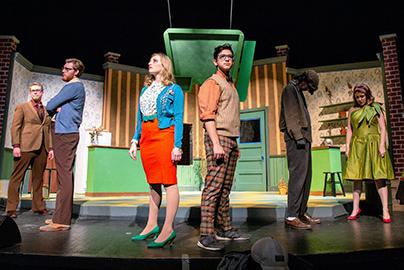 Tuesday, January 29, 2019
In its over 35 years of existence, the musical "Little Shop of Horrors" has grown from being an oddity as an off-beat but fun musical, to its now classic status. It's not just that it is based on a 1960 low budget horror flick, or that it revolves around a nerd flower-shop worker named Seymour, his tawdry but good-hearted girl, Audrey, and the man-eating plant from outer space. The most surprising aspect of "Little Shop" is that just barely beneath the surface beats a sentimental heart. It never condescends to its characters or reduces them to cartoons.
Sterling College Theatre will present the now classic musical "Little Shop of Horrors" this weekend Thursday, Friday and Saturday at 7:30 p.m. and Sunday, February 3, at 2 p.m. in Culbertson Auditorium on the Sterling College campus.
"'Little Shop' is a fun parody of all the silly—and sometimes badly done—horror films of the late 1950s and early 1960s," says Sasha Hildebrand '03, Sterling College theatre faculty member and director of the musical. "It is an over-the-top romp through a silly plot, exaggerated characters, and some nostalgic music that makes you feel like you've gone back in time to the early rock-n-roll era."
The combination of silly and sweet accounts for the show's success. The original 1982 off-Broadway production ran for five years. The show became a Hollywood film featuring Steve Martin and original cast member Ellen Greene in 1986. It has been enormously popular with professional, community, college and school theatres worldwide. It has been staged once before in Sterling with the Sterling Community Theatre Troupe production in 1988.
Chief among the show's appeals are its songs by Alan Menken and the late Howard Ashman — the duo responsible for the music in Disney's "The Little Mermaid," "Beauty and the Beast" and "Aladdin" — which marry intricate wordplay to the pop sound of the early 1960s. The show owes such a debt to that era's girl-group sound that its Greek chorus of backup singers bear the names Crystal, Chiffon, and Ronnette.
Hildebrand along with Music Director Marisa Callan '05 chose the show for Sterling College because they knew it was a favorite among their students. "I will always take into account what the students are interested in doing as part of the theatre season," Hildebrand says.
Callan was familiar with the show, having performed the leading role of Audrey when she was in high school in Norco, Calif., in 2001. Her co-star in that production, playing the role of Seymour, was Travis Nesbitt, who is now a professional performer and producer in New York. Nesbitt came to Sterling from New York to choreograph several of the show's musical numbers.
"When Travis found out we were doing the show, he wanted to help out. We want our students working with professionals and this was a perfect fit. He was impressed by our students' attitudes and eagerness to learn," says Callan.
"We have such an abundance of talent – we decided to double cast several roles in order to give that opportunity. Double casting means more work for the directors in order to make sure both sets of actors get enough rehearsal – so it is a challenge – especially in our shortened rehearsal period during January Interterm.  However, our students did so great in practicing together and supporting each other that now we have two wonderful sets of performers in the roles of the Dentist, Audrey and the girls Trio," explains Hildebrand.
In addition to Hildebrand and Callan, theatre faculty member Stephen English designed set and lighting for the show and Joan Ehresman is principle accompanist. Sterling Admissions Counselor Katie O'Brien is assisting in choreography.
Tickets are $10 for adults and $5 for students at the door.
Sterling College is a Christ-centered, four-year college located in Sterling, Kansas, with a mission to develop creative and thoughtful leaders who understand a maturing Christian faith. For more information, visit www.sterling.edu.