Cooper's New Sword in the Stone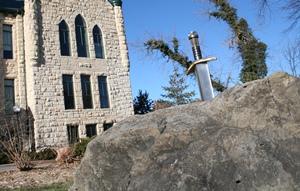 Wednesday, January 4, 2012
On December 24, around 7:00 a.m., a mysterious rock with a protruding sword was delivered to Sterling College. The secret gift was left in front of Cooper Hall and has baffled the administration at Sterling College, sending personnel to their phones and email asking alumni and friends for information.
So far, the only information available has come from former employee, Ginger Reed, who lives across the street from Cooper Hall. "I looked out of the window around 7:00 a.m., and I saw a red truck with a long white flatbed trailer on the lawn of Cooper. But that is it. I didn't recognize anyone," said Reed.
The boulder is engraved with "SC Warriors" on one side, and has the hilt of a sword sticking out of the top, much like the illustrations of King Arthur's Sword in the Stone. Vice President and Chief Financial Officer of Sterling College Scott Rich said a few local citizens looked at the sword and believe it to be stainless steel and brass, but the type of stone is yet to be determined.
"The gift is professionally done, and it is clear that a lot of time and effort have gone into the project. We would like to know more information about the gift to properly thank those who donated it," said Rich.
If you have any information regarding the origins of this gift to Sterling College, please contact Karin Swihart at 620-278-4213.