Economics Class Buys Livestock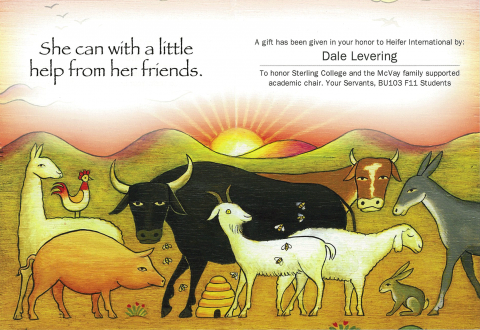 Thursday, January 19, 2012
When sophomore Nathan Sullivan of Wichita, Kan., entered economics class this fall at Sterling College, he had no idea that it would involve buying livestock. But Associate Professor of Business Dale Levering had a vision for integrating faith into the classroom, and economics class is no exception.
"One day in class, Dr. Levering was telling us how he used basic economic principles to do humanitarian work in other countries. He mentioned the Heifer project, and the class thought it sounded like a cool idea. So we all chipped in money to buy livestock for the project," said Sullivan.
Heifer International gives animals to families in majority world countries who could benefit from a source of income. The animal provides a steady source of income by producing wool, eggs, milk, or other goods to sell at market. The family is then able to buy medicine, food, clothing, and pay for their children to go to school. Upon receiving the animal, Heifer International teaches the family how to take care of their animals, and the family promises to give at least one animal offspring to another needy family. The goal is to eventually lift entire communities out of poverty.
This goal ties into the heart of economics. According to Levering, "The principle goal of the economic sciences is to improve the human condition. By engaging in the Heifer Project, the students were able to experience the interplay between economics and the Christian faith. The Heifer Project will provide an array of livestock to people in need of an economic boost. The students in econ class were able to apply their exposure to economics outside the classroom in such a manner as to have a Kingdom of God perspective. That is what business education at Sterling College is all about: business with an impact."
The money donated by the students was given to Heifer International in honor of Sterling College and the McVay family who supported the academic chair that Levering holds.