Former Trustee Dr. Robert R. Brownlee '47 passes away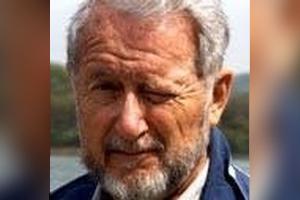 Former Sterling College Board of Trustee member Dr. Robert R. Brownlee '47 of Loveland, Colorado, passed away on May 2, 2018.
"We are saddened to hear of Dr. Brownlee's passing. He demonstrated how to be exceptional in his work and distinguished in the way he conducted himself. We celebrate his life well lived and we are grateful for the example he gave us all," said Scott Rich, president.
Brownlee served the College as a Trustee from 2000 to 2006. In 2002, he was awarded the Distinguished Service Award from the College. The award is the highest alumni recognition presented by the College.
Brownlee earned degrees from Sterling College, the University of Kansas and Indiana University. He served in the Army Air Corps during World War II, taught high school math and science, and continued on to earn his doctorate in astrophysics and astronomy.
During World War II, he served as a navigator of B-29's in the Army Air Corps, flying over the Pacific Ocean. After the war, he completed his college education, taught high school science and math before earning a doctorate in astrophysics and astronomy. After receiving his Ph.D., Brownlee took a job at the Los Alamos Scientific Laboratory where he remained for 37 years. Brownlee was a participant and sometimes a test director of research rocket launches in Kauai, Hawaii, and Poker Flat, Alaska.
Once retired, he wrote a book about his life, providing a glimpse into the life of a nuclear weapons scientist.  His technical knowledge was so vast that he continued to advise, mentor and teach new generations of scientists, keeping his clearances right up until the time of his death. Colleagues, friends and family knew him as a great resource of knowledge, wisdom, humor and his strong Christian faith.
A celebration of his life memorial service will be held at 10:30 a.m. on Thursday, May 10, 2018 at Mountain View Presbyterian Church, 2500 N. Garfield in Loveland, Colorado. Inurnment service will be held on Saturday, May 12, 2018, at 10:30 a.m. at Stafford Cemetery, Stafford, Kansas.