Froese Leads Students in Research Documenting Learning Loss from Classroom Texting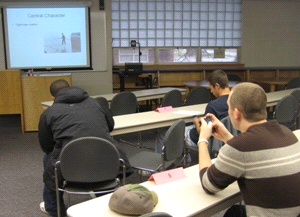 Wednesday, February 1, 2012
Exactly how much material students miss by using cell phones in the classroom is information that researchers, administrators, and teachers desire to know. Dr. Arnold Froese, professor of psychology at Sterling College, has an answer. The results of his groundbreaking study will be revealed in an upcoming edition of College Student Journal.
While several studies have explored cell phone use as a distraction, Froese's is the first documented study that directly relates texting dialogue with the texting performer's loss of information in a classroom setting.
In late 2009, Froese and a team of students first designed a survey given to nearly 700 students from colleges and universities across the U.S. The survey asked about students' habits of carrying a cell phone to class, work, church, daily errands, and leisure activities, as well as how often they texted while in each location. They then ranked their texting frequency from avid to emergency-only users and approximately how many times per day they sent text messages. Finally, participants predicted how many questions they could answer correctly on a 10-question quiz given after a lecture. Overall, students predicted a 33% drop in quiz scores due to texting.
Next, students at Sterling College participated in a mock-classroom setting where they watched a PowerPoint presentation and completed a 10-question quiz following the lecture. Half of the participants were involved in active text conversations, while the others were not. The experiment was performed twice, with students switching between the texting and non-texting conditions. Upon scoring the quizzes, Froese's team calculated that student scores dropped 27% due to texting.
"It is amazing how accurately students predicted the decline in their scores, and even more so that they continue to perform a detrimental behavior knowing the effects it will have on their performance," said Froese. "However, students have always been distracted in the classroom. Cell phones have simply provided an enticing outlet for their attention. We are continuing our research on other variables such as faculty behavior and instructional variations that could help us understand how to deter this unwanted behavior in the future."
Froese and his students have already begun the next phase of research to further their study. The students listed as co-authors of the article include Christina N. Carpenter of Bailey, Colo., Denyse A. Inman of Chino Hills, Calif., Jessica R. Schooley of Liberal, Kan., Rebecca B. Barnes of Hiawatha, Kan., Paul W. Brecht of Manhattan, Kan., and Jasmin D. Chacon of Washington, D.C.
To download the video of Dr. Froese's presentation, click here. (Warning: The file is fairly large, so it may take several minutes to download)