"The Glass Menagerie" open Feb. 27 at Sterling College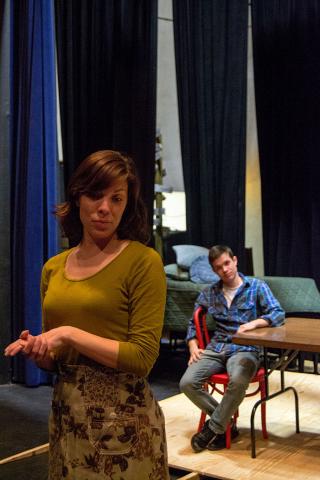 Wednesday, February 19, 2014
The public will get its first chance to enjoy the new Culbertson Auditorium renovations at the Sterling College theatre department's performance of "The Glass Menagerie." The play, directed by Assistant Professor of Theatre Arts Matthew Winning, opens Thursday, Feb. 27, and runs through March 1. The box office will open on show nights at 7 p.m., doors open at 7:30 p.m. and the play begins at 8 p.m. Tickets cost $8 for adults and $5 for students and seniors.
"The Glass Menagerie," a classic 1940s drama by Tennessee Williams, tells the story of Amanda Wingfield, who lives in a run-down apartment in St. Louis with her two children, Tom and Laura. Through ineffective methods, Amanda tries to bring meaning to her family's life, but she only succeeds in irritating her children. Amanda has an intense desire to marry off her daughter, while all Tom really wants is to leave his job and his oppressive life at home. When Tom feels pressure from his mother to help find a suitable match for his crippled sister, he invites Jim O'Conner, an acquaintance, over for dinner, creating more problems for the Wingfield family.
"In the author's production notes for 'The Glass Menagerie,' Tennessee Williams describes his play as 'a memory play.' He stated that, 'Being a memory play, "The Glass Menagerie" can be presented with unusual freedom of convention.' He encourages the director to '…employ unconventional techniques' when presenting this play, not to avoid or 'escape' reality but '…to find a closer approach, a more penetrating and vivid expression of how things are,'" said Winning.
"In our production we have attempted to honor Tennessee Williams' intentions. We will present 'The Glass Menagerie' through an expressionistic, or poetic lens. The scenic and lighting design are highly conceptual and dreamlike, the actors will embrace the heightened poetic language, and the sound/ music design will stream in and out of the audience's conscience like a dream. While the costumes and acting retain a sense of 'theatrical realism' both will contain elements consistent with a dream world," said Winning. 
"The Glass Menagerie" has a cast list of four members. Sterling College's production includes Shiloh Duff of Scott City, Kan., as Tom Wingfield; Chelsey Moore of Wichita, Kan., as Amanda Wingfield; Darsha Bechard of Belleville, Kan., as Laura Wingfield; and Shane Rogers of Wichita, Kan., as Jim O'Connor. Chloe Vierra of Lyons, Kan., is assistant director. Assistant Professor of Theatre Arts Aaron Kennedy is set and lighting designer. Kayla Van Nover of Wichita, Kan., is the costume designer and Bryce Bassett of Goddard, Kan., is stage manager.
Running time is approximately 90 minutes.