Graduation activities begin Friday at Sterling College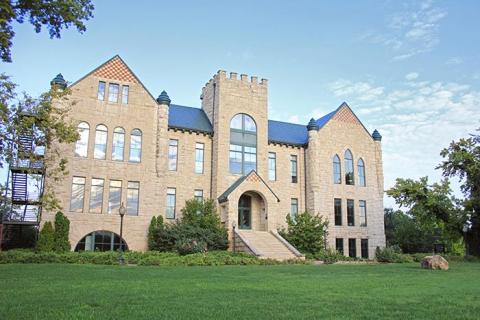 The Class of 2014 will graduate from Sterling College on Saturday, May 17, at 9:45 a.m. Graduation activities begin Friday morning with a senior breakfast sponsored by the alumni office. A senior dinner and Baccalaureate will take place Friday evening. Wayne Hardy '75, pastor at Kirk of the Hills in Tulsa, Okla., will deliver his speech, "Remember Who You Are," at 7:30 p.m. in Culbertson Auditorium. Dr. William Brown, chancellor of Cedarville University, will give the commencement address at 9:45 a.m. on Saturday. His speech is titled "Slam Dunk Moments."
"The energy and excitement of graduation weekend has begun to fill campus. Our seniors and their families are an important part of the Sterling College family, and we anxiously await their arrival to begin the celebration. We wish the Class of 2014 the best of luck," said Scott Rich, president.
Hardy has served as senior pastor for the Presbyterian church Kirk of the Hills since 1989. One of the highlights of his ministry has been expanding and directing the Kirk mission program.
Hardy grew up in New Mexico and attended Sterling College, where he met his wife, Lynette (Cunningham) '76. He has a bachelor's degree from Sterling and earned both a Masters of Divinity and Doctor of Ministry from Fuller Theological Seminary. He was a pastor in Colorado and Minnesota before moving to Oklahoma.
Brown earned his Bachelor of Arts from the University of South Florida, and continued to Dallas Theological Seminary where he earned both his Th.M. in Theology and Ph.D. in Biblical Studies. Brown then served as the president at Bryan College in Dayton, Tenn., before coming to Cedarville University where he served as president from 2003–2013.
While president of Cedarville, Brown developed a Christian worldview media curriculum called re:View, a program that helps high school students to discern culture and engage in their world. He developed several new online programs and launched several graduate programs. The Cedarville campus also expanded to include the Health Sciences Center, the Center for Biblical and Theological Studies, and 14 residence halls were renovated. He has written three books about worldview.