Historic event brought to life in classic play at Sterling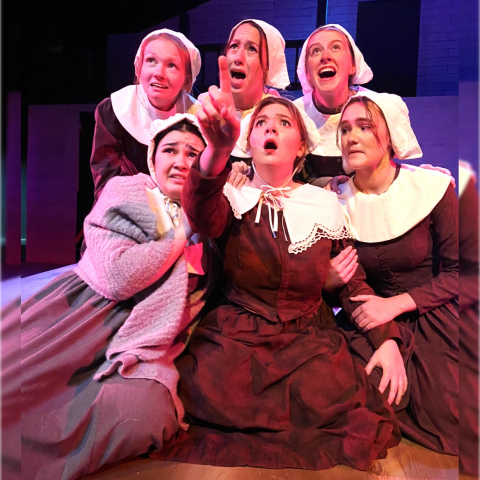 Wednesday, November 15, 2023
Witchcraft, hysteria, betrayal, adultery, and high emotion all combine in Arthur Miller's classic play The Crucible. Sterling College Theatre will be staging The Crucible this week on Thursday, Friday, and Saturday, November 16, 17, and 18 at 7:30 pm in Culbertson Auditorium on the campus. 
Set against the historic true events of the Salem Witch Trials of 1692, Miller's play has captivated audiences and students for 70 years. It is a revered classic, one of the top studied pieces of American literature in the classroom, and one of the most often produced plays onstage. This marks Sterling College's third production of the show. 
In the tight-knit Puritan town of Salem, Massachusetts a group of girls are discovered dancing in the woods and then immediately fall ill. When no earthly cause can be identified, fear and suspicion begin to percolate in the small, isolated community, that something larger, more fearsome, and other worldly may be to blame. Buried secrets and resentments are brought to light and attempts to root out evil lead to finger-pointing, treachery, and betrayal. "When everyone is a suspect, sometimes the most dangerous threat to the community may be the community itself," said the show's director Dennis Dutton.
Sterling College senior Cate Gutteridge, Norman, OK, is playing Abigail Williams, the chief agitator of the accusations. She first encountered Miller's play as a junior in high school in English class. "The Crucible has such a universal message and theme. Although it is set during the Salem Witch Trials, Miller wrote it during the McCarthy Era when communists or anyone who had connections with communists were blacklisted from work. The message can be applied to past and present history, and anyone can learn from it no matter their beliefs," she said.  
Miller researched the actual transcripts of the historic witch trials and found the impetus of what would become his world-famous drama.  All the characters in the play are based on historic people Miller found in his research. Abigail Williams had been a serving girl to John and Elizabeth Proctor. The various farmers, judges and townspeople were all part of the hysteria which resulted in 19 people being executed.
Senior Katie Lumbert, Rose Hill, is playing Elizabeth Proctor. She said, "Remembering that The Crucible is based on a true story and that I have the opportunity to do justice to a woman who really lived more than 300 years ago has meant a lot to me." 
Lumbert recalls sobbing by the time she finished reading The Crucible for the first time. "I love art that makes me think deeply about how I'm living. Art that makes me question my life decisions and think about what means the most to me. I'm excited for audiences to hopefully have that experience through this work," she said. 
Gutteridge adds, "This story has a way of tugging at your heart strings and your conscience. It makes you want to be a better person. The message of the story is about standing your ground on your beliefs and for what you believe is true and good and not giving into the opinions of others. It's about going against the status quo." 
"The show says a lot about sticking to your convictions. It begs audience members to take stock of their realities and ask questions like, 'Are there parts of my life where I simply agree with everyone because it's convenient?' or 'What do I believe is worth dying for?'" said Lumbert. 
Asked about her time at Sterling College Theatre Gutteridge said, "I have truly come into myself as an actress and found my true calling as a director. I could not be more grateful for my time at Sterling. I have found a passion for teaching and directing theatre and that is what I plan to do with my future."
Lumbert said, "SC Theatre has basically taught me everything I know about theatre. Before coming to Sterling, I did theatre as a hobby but was not planning on majoring in it until I saw I had some free credit hours that 'I might as well use up.' Because of Sterling, I've realized that a career in theatre is a possibility, and it's a possibility that I've already been blessed to see come to some fruition during my years here."
Gutteridge and Lumbert along with Sterling senior Luke Harding who plays John Proctor lead the 23-person cast. Gutteridge said, "I am excited to give the audience a story they will never forget. This show has not been done at Sterling College since 1997 and I am excited for the audience to see this show in a new and exciting way. Everyone in the cast and crew has put so much work into this production and I cannot wait to share our final product with them."
Tickets to the Sterling College Theatre production of The Crucible are $10.00 for adults and $5.00 for students and are available online at www.sterling.edu/arts or at the door before each performance. 
Sterling College is a Christ-centered, four-year college located in Sterling, Kansas, with a mission to develop creative and thoughtful leaders who understand a maturing Christian faith. For more information, visit www.sterling.edu.