Honors class visits Voice of the Martyrs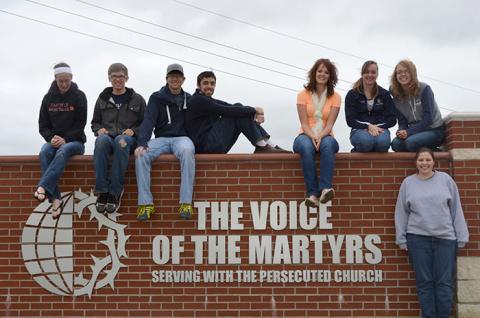 Students in the Global Impact class, an honors class at Sterling College, traveled to Wichita and Oklahoma at the end of April to see how other groups of Christians are addressing the issues of suffering throughout the world.
The group of eight students traveled to Wichita first, where they met with the staff at Hospitals of Hope, an organization involved in medical missions work around the world.
"[The people at Hospitals of Hope] are a good example of people who wanted to make a difference at a global level and have been able to do so. That is the real importance of what we are doing in this course. The hope is that students will think about how their life's work has a global dimension. How can they think about how they will be involved at a larger level than simply locally or even nationally," said Dr. Daniel Julich, assistant professor of history and government.
The honors class continued to Bartlesville, Okla., home of Voice of the Martyrs, a nonprofit Christian organization dedicated to give practical and spiritual help to the persecuted church. At a chapel service, staff members shared stories with the students about how Jesus Christ and His message are reaching people in countries where Christianity is illegal.
"At Voice of the Martyrs, we were fortunate to hear the testimonies of [pastors from a Muslim-dominated country]. The church in the Muslim world is suffering, but growing and vibrant. Every Christian needs to know about our brothers and sisters who don't have the comforts and freedoms we have," said Senior Benji Mast, of Partridge, Kan.
In the final part of the trip, the group traveled to Oklahoma Wesleyan University to partake in a class on the topic of suffering. The students in the OWU class explained a number of issues they had come across throughout the semester, including questions about what role suffering plays in the lives of Christians, to what extent Christians should try to avoid suffering and the role Christians have in standing up for justice for those who are oppressed.
"This trip was very fitting for ending our course on global impact. Each stop we made gave insight as to how God is moving throughout the world, whether that be through medical missions in Haiti or the spread of Christianity throughout Islamic countries—God's hand is active everywhere. It was encouraging to see how each of us can fit into the big picture and be used in God's plan no matter our field of study," said Senior Erica Wilt of Hutchinson, Kan.