Hubbell awarded grant from Kansas Academy of Science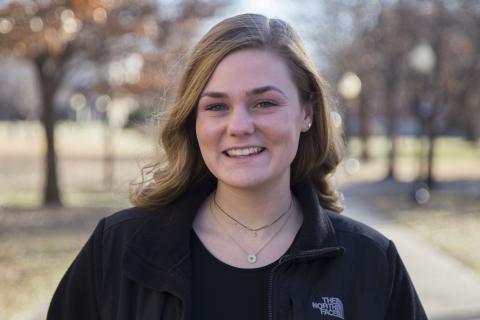 Wednesday, December 13, 2017
The Kansas Academy of Science awarded Sterling College sophomore Elaina Hubbell of St. Louis, Missouri, one of three undergraduate grants in the state of Kansas for the 2017-18 school year. Hubbell is researching the effects of urbanization on the water quality of the Arkansas River and used the grant for water testing equipment.
"It is an honor to be chosen by the Kansas Academy of Science for this grant, as it is a competitive grant between anyone in the sciences – for biology, chemistry or physics. Elaina is very interested in research and will do a great job both conducting the research and presenting at the Kansas Academy of Science Annual Meeting this spring," said Dr. Jonathan Conard, associate professor of biology.
Hubbell started her research during the fall 2017 semester, which includes collecting water samples from the Arkansas River before and after it travels through three cities of varying sizes. She is using Ellinwood, Hutchinson and Wichita as her small, medium and large cities.
"I have always been pretty passionate about conservation, which was what led me to the idea to study water quality," said Hubbell. "Currently, I have been measuring the pH, nitrate and phosphate levels, and dissolved oxygen in the river but it has been quite time consuming. There is a separate test for each one, but because of the grant, we were able to purchase a YSI water quality meter that will calculate all those levels at once by just dipping the sensor in the water. It's really cool and will save so much time."
She has begun analyzing the results and will continue her analysis this spring.   
"It's been very dry this semester, so we haven't had a lot of runoff into the river. I haven't seen a lot of change with nothing going into the river, but we will see what happens after a good rain storm. The stable results are good though," said Hubbell.
Hubbell will present her research in April at the Kansas Academy of Science Annual Meeting as a requirement of the grant.