Jenny Lane hired as director of ministry teams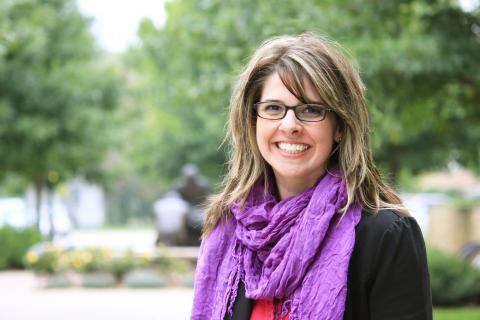 Wednesday, September 26, 2012
The College is expanding its investment in church relations with the hiring of 2002 alumnae Jennifer Lane as director of ministry teams. Lane is coordinating groups of students to travel to area churches and Christian schools to help with youth groups, children's ministry, praise and worship and other programming needs.
"We want to serve churches in a multitude of ways while spreading awareness of Sterling College. For example, if your pastor is gone for a Sunday, our team of Sterling College students could come in and serve the congregation in whatever way is needed," said Lane. "This ministry is still in its infancy, so we are open to discussing with churches or schools how our students can serve them. Our goal is to tailor those we send out to the needs of the organization."
"We are excited to have Jennifer back at her Alma Mater," said Dennis Dutton, director of admissions. "Her part in ACT 1, a theatre ministry group at Sterling, and ten years in a mega church makes her uniquely qualified to begin this important ministry and promotion to spread the word about Sterling College and what it has to offer."
Lane worked for the past ten years as the creative arts pastor for Fellowship Bible Church in Little Rock, Ark. During her time there, she designed and developed programs and worship services and built bands and worship teams. She has a B.A. in Religious and Philosophical Studies and a B.S. in Christian Education from Sterling College, and is currently working on her M.A. in Intellectual Leadership from A.W. Tozer Theological Seminary.
To request a ministry team to visit your church or school, email Jennifer at jlane@sterling.edu or call 620-278-2173.