Magical "Cinderella" on stage at Sterling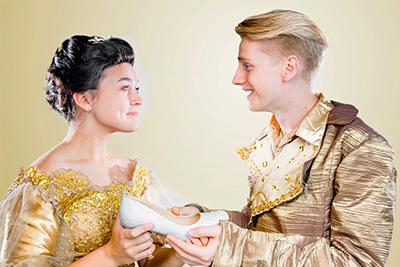 How do you solve a problem like "Cinderella?" Freshening up a traditional storybook fairytale that the world has known and loved for centuries was the challenge facing the production team behind Rodgers and Hammerstein's Cinderella. The new Broadway musical version of the cherished classic will be presented by Sterling College Theatre as this year's Homecoming musical on Thursday-Saturday, October 10-12 at 7:30 p.m. and Sunday, October 13, at 2 p.m., in Culbertson Auditorium on the Sterling College campus.
The legendary songwriting team behind such classics as "Oklahoma!" and "The Sound of Music," Richard Rodgers and Oscar Hammerstein, originally wrote "Cinderella" for live television in 1957 as a vehicle for Julie Andrews. It was remade twice for TV, in 1965, with Leslie Ann Warren, and 1997, with pop singer Brandy. It didn't make it to Broadway until 2013, long after both songwriters had died.
The new book for the musical by contemporary playwright Douglas Carter Beane is intended to update the familiar story for contemporary audiences. 
"This is a more fully developed character of Cinderella. This version strikes a balance between the classic sweet ingénue princess and a strong-willed woman of 2019," said Sterling College Theatre Artistic Director Sasha Hildebrand '03, who is directing the show.
"I think what is powerful is going to the theater and seeing something that is familiar, comforting, and nice. Then, having added new bits and new things that are surprising and help add to the fun," said Hildebrand. 
In this new tale, "Ella," as she's known, pursues the prince not for the promise of romance or fortune, but for the opportunity to advocate for friends and townspeople being oppressed by the kingdom's wicked rulers.
"It's still your classic Cinderella story — we've got the fairy godmother, the pumpkin, the prince," said Hildebrand. "But in this telling, the prince is more than just charming, he's kind of going through an emotional crisis in which Ella helps him."
"Rodgers and Hammerstein's Cinderella" (which is the show's full title) features well-known songs from the original show, along with a few additional "trunk songs" mined from the duo's leftovers including "Now is the Time," originally written for South Pacific, and "There's Music In You" which was written for a 1953 film.
The magic and spectacle of the show includes a huge amount of costumes for the 46-member cast. And, according to Hildebrand, some jaw-dropping "blink-and-you-miss-it magic." Respected Broadway costume designer William Ivey Long won a Tony Award for his costumes for the show which have inspired Hildebrand and her costume students in their creations. 
"We don't have nearly the budget or crew that he did. But we can be pretty creative with refashioning old prom and wedding dresses and repurposing costumes we have in storage," said Hildebrand. 
Her costume crew includes Sterling students Tiffany Adams, Ardynn Brooks, Ava Brooks, Savanna Burt, Kimberly Loya, and Dylan Werth. 
Costume assistant Adams estimates there are about 90 costumes in Sterling's "Cinderella" but only 10 have been constructed from scratch for this show. The rest of the costumes for women in particular, were all significantly restructured or altered in some way to fit within the "Cinderella" world. 
One of the "blink and you'll miss it" magic moments is Cinderella's transformation. 
"It's a beautiful creation. We're re-creating the magic moment from Broadway," said Hildebrand. 
 The idea was to have the audience marvel at Cinderella spinning around and magically change from peasant garb into a stunning gown. When asked how that's accomplished, Hildebrand replied, "Well, that's the magic!"
"We want the audience to be swept away in new and magical ways through a familiar story, and I hope they have an emotional experience in watching characters overcome adversity and triumph in the end," said Hildebrand. 
Rodgers and Hammerstein's Cinderella will be presented Thursday-Saturday, October 10-12 at 7:30 p.m. and Sunday, October 13, at 2 p.m., in Culbertson Auditorium on the Sterling College campus. Tickets will be available at the door before each performance or may be reserved in advance online at sterling-college.ticketleap.com. Sterling College students and employees receive free admission with employee or student i.d.
Sterling College is a Christ-centered, four-year college located in Sterling, Kansas, with a mission to develop creative and thoughtful leaders who understand a maturing Christian faith. For more information, visit www.sterling.edu.