Mid-Nineteenth century tintypes on display at Sterling College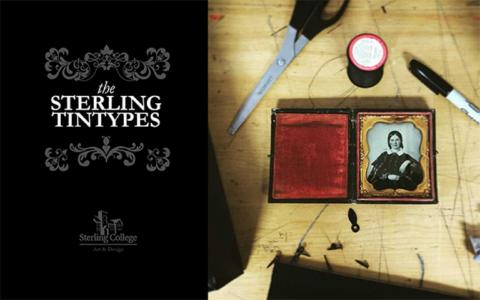 Found in the archives of Sterling College, 14 photographic prints have been restored and are on display in the gallery of the Sterling College Art and Media Center. The majority of the prints are tintypes, a photographic process used in the mid-19th century, and will be on display through March 29, 2018. The public is invited to view "The Sterling Tintypes," which will be open weekdays March 5-9 and March 19-29 from 8 a.m.-5 p.m.   
Assistant Professor of Art and Design Daniel Swartz stumbled upon the photographs during the summer of 2017 while searching through Sterling College's archives. Stored in a cardboard box, the prints have some deterioration but are in fair condition, given they were most likely created approximately 150 years ago. With help from Assistant Professor of Art and Design Sia Joung, the photographs were cleaned and mounted for display.
"Tintypes were a popular method of printing photographs in the mid-1800s to early 1900s," said Swartz. "Based on clues from the photographs and a few pieces of handwriting, we estimate that these photographs are from the mid-to-late 1800s. We also suspect two are daguerreotypes, and one is a carte de visite in the exhibit. The only portrait whose photograph we are sure of is Ulysses S. Grant, printed on the carte de visite. We would love to know if anyone in the area has any clues as to who these people are or where the photographs came from."
For more information about the exhibit or to schedule a special viewing time for groups, email art@sterling.edu.
Sterling College is a Christ-centered, four-year college located in Sterling, Kansas, with a mission to develop creative and thoughtful leaders who understand a maturing Christian faith. For more information, visit www.sterling.edu.