Much Ado About Nothing Opens on Thursday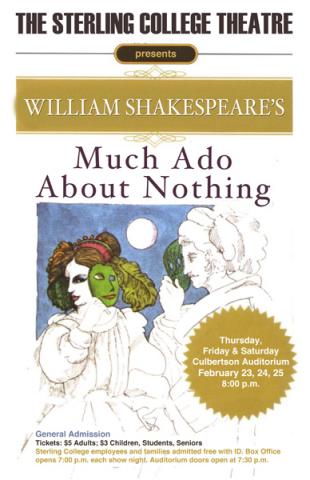 Monday, February 20, 2012
Sterling College's spring theatrical performance, Much Ado About Nothing, will take place in Culbertson Auditorium, February 23-25, at 8:00 p.m.
The play is noteworthy as it is the last theatre production directed by Diane DeFranco-Kling with Gordon Kling designing the set. They will retire at the end of the academic year. G. Kling began directing at Sterling in the fall of 1968. Since then, he and Diane, who joined the department in 1971, have directed, choreographed, and designed sets and costumes for the theater program for over 80 performances.
Much Ado About Nothing is a play that has survived centuries in the hands of English scholars, theatre professionals, and college and high school students. Penned by one of the most influential writers in English literature, William Shakespeare, Much Ado About Nothing offers a sixteenth-century glimpse of the romantic comedy genre while exploring deeper themes like honor, nobility, politics, and shame.
The plot centers around two sets of lovers, Beatrice and Benedick, who refuse to acknowledge their feelings for each other and Claudio and Hero, who fall in love at first sight. Claudio and Hero must wait a week to be wed and Don Pedro, their prince and good friend, devises a plot to force Beatrice and Benedick to fall in love with each other to help them pass the time until the wedding. Throughout the week, Hero's cousin, Beatrice, and Claudio's friend, Benedick, constantly argue with one another. It is clear to the engaged couple that their friends are meant for each other, but Beatrice and Benedick would rather be witty verbal sparring partners than lovers. Things take an unforeseen twist when one of the ladies fakes her death and the remaining characters are left to wonder if their efforts in the name of marriage were all in vain or if love will prevail in the end.
Tickets are available at the door. There is no reserved seating. Admission prices are $5 for adults, $3 for students, children, and senior citizens. Students, SC employees and their immediate families get in for free. The Sterling College Box office will only be open the night of the performances from 7:00 p.m. until show time. Doors will open at 7:30 p.m.
The students and faculty in the theatre have been working together for weeks to produce the show. Ryan Ehresman of Wichita, Kan., will play Claudio, Jackie Wilkerson of Wichita, Kan., as Hero, Shane Rogers of Wichita, Kan as Benedick, Samantha Davison of Wichita, Kan., as Beatrice, Vance Stegman of Lyons, Kan., as Don Pedro, Mike Danski of Venice, Fla., as Don John, Stuart Parman of Arkansas City, Kan., as Leonato, Mike Redondo of Norco, Calif., as Antonio, Cody Martin of Hutchinson, Kan., as Balthasar, Devondrick Palmer of Easton, Texas, as Conrade, Phillip Taylor of Norco, Calif., as Borachio, Tim Luisi of Rapid City, S.D., as Friar Francis, Shiloh Duff of Scott City, Kan., as Dogberry, Steven Newby of Columbia, Mo., as Verges, Travis Norton of Liberal, Kan., as 1 Watch, Cody Green of Wichita, Kan., as 2 Watch, Sened Tesfey of Chicago, Ill., as A Sexton, Nathan Sullivan of Wichita, Kan., as Messenger, Chelsey Moore of Wichita, Kan., as Margaret, Cara Spencer of Lyndon, Kan., as Ursula, Chloe Wootton of Norco, Calif., and Darsha Bechard of Belleville, Kan., as Ladies in Waiting, Jamie Fitzgerald of Liberal, Kan., and Cody Martin as Musicians. Mandy Lee of Tulsa, Okla., is the stage manager.