New Communication and Media Arts Major Now Available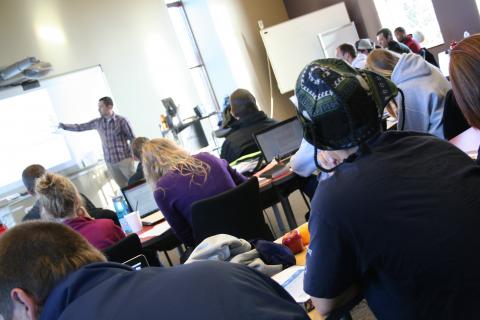 The number of majors now offered is increasing this fall. The communication and theatre arts department will offer three distinct majors, allowing students to specialize in theatre arts, communications and media arts, or speech and theatre education.
 The new majors benefit students who want to study specific areas of communications or theatre.
"Our students still have a common communication and theatre arts core, but they can now focus on their interests," said Dr. Raymond Anderson, associate professor of communication arts. "The new majors and their concentrations allow us to offer the students classes that and give more depth in this particular area."
The newly formed communication and media arts major will offer concentrations in public relations, cinema production, multi-media production, communication arts and journalism, while speech and theatre education will continue to offer two concentrations: communication arts or theatre arts. Each concentration requires courses from multiple departments, yielding an interdisciplinary approach to communications and theatre.
Vice President of Academic Affairs Dr. Gregory Kerr said, "We used the strengths from different departments to come together in a meaningful way. We also built the curriculum to include the CCCU BestSemester programs at the LA Film Institute, the Nashville Contemporary Music Center, and the Washington Journalism Center. These off campus programs meet course requirements for their designated concentrations and are exciting opportunities to offer our students."
Anderson helped develop a media program at George Fox University and has already taken significant strides with the program at Sterling College. In addition to developing the new majors and concentrations, he was the sponsor for the first Sterling Festival of Film held in April. The festival showcased 15 student-created films.
Kerr said, "We are thrilled with the talent that our faculty bring and think that the changes really set us apart from other institutions."