Popular story on stage at Sterling College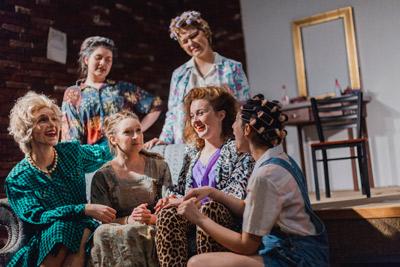 It's a perennially popular movie, was recently remade as a made-for-television movie and has had countless stage productions, including two in Sterling. It's described as "the hilarious and heartwarming story of six Southern women who gather and gossip at the local beauty parlor. With wit, warmth, and intelligence, they rise to meet whatever challenges life sends their way." It's Steel Magnolias and it will be staged by Sterling College Theatre this Wednesday and Thursday evening at 7:30 p.m. and finish with two performances Saturday at 2 p.m. and 7:30 p.m.
The show is being directed by 2018 Sterling College Theatre graduate Katie O'Brien who is the arts admissions counselor for Sterling College.
"I've always loved the movie so I read the play script which is a bit different but I found I loved it, too, and knew we'd have the cast to pull it off," O'Brien said.
This marks O'Brien's first time to direct a full-length show.
"It has felt really natural directing. Going into it, I thought doing something on my own would be stressful, scary, and hard. It has been those things at times, but overall it has been really great, and I have felt very much in my element directing the show," O'Brien said.
The play had its premiere in New York 32 years ago and went on to become a popular 1988 movie starring Sally Field, Dolly Parton and Julia Roberts. Robert Harling wrote both the play and the screenplay for the movie. His play Steel Magnolias is based on the tragic loss of his sister, Susan Harling Robinson. Like the character Shelby, she died as a result of diabetes-related complications following the birth of her only child. Distraught by his sister's death, Harling threw himself into a surge of creativity, and, ten days later, he emerged from his room with the initial draft of Steel Magnolias: a play he has called an homage to his sister.
"I was seized with such a fury," Harling has said in explaining the genesis of the play. "I never looked at it as anything more than telling a story.  I was just so upset and somehow I thought it would make things better."  What seemed especially urgent was "the thought that my nephew would grow up and never know his mother, the sacrifice she made so that he could live.  So this is basically the story of her life"
It is also, says Harling, a portrait of "the community of women that surrounded" the playwright's mother and sister during their ordeal.  "I created a whole bunch of characters to help tell the story, illustrate that support system."  According to Harling "my family and my community have always been characterized by a tremendous sense of humor, even in the darkest moments."
Explaining the title, Harling says, "Before the play or the movie existed, 'steel magnolias' was simply a description of Southern women. It means something that appears delicate and fragile but wields unexpected strength."
Director O'Brien says, "I hope that people see it as more than just a 'girl's play,' even though a lot of it is all about hair, beauty, and gossip. I hope people see that it shows how strong women are, how well they can respond to crises and death, and the importance and beauty of female friendship."
Performances of Steel Magnolias are set for 7 p.m. on Wednesday, March 27, Thursday, March 28, and two times on Saturday, March 30: 2 p.m. and 7:30 p.m. Tickets are $10 for adults and $5 for students and will be available at the door before each performance. Due to the intimate nature of the show, Steel Magnolias is being staged in the Student Union at Sterling College in Cornerstone. Seating in Cornerstone is limited.
Sterling College is a Christ-centered, four-year college located in Sterling, Kansas, with a mission to develop creative and thoughtful leaders who understand a maturing Christian faith. For more information, visit
www.sterling.edu
.