Renovations of cafeteria in progress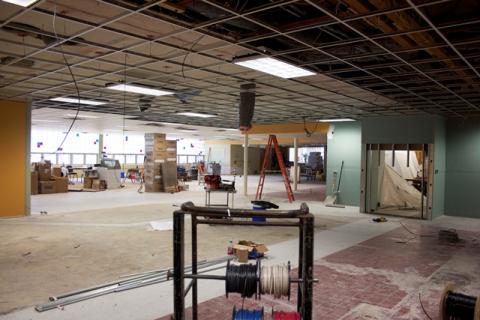 It is easy to spot a freshman in a college cafeteria as they wander around trying to learn the ropes. This fall, every student at Sterling College will look like a freshman as they learn to navigate the newly expanded and renovated cafeteria and menu options.
The changes to the cafeteria, Chandler Boardroom, Cornerstone and Fireside Room began in May and are on track to finish by the time students return in August.
The newly designed cafeteria will showcase a modern façade with six individual stations, giving students a wider variety of food to choose from at lunch and dinner. The Hearthstone Oven will serve calzones, pasta bakes and grilled sandwiches. The Kitchen will serve traditional hot entrees like pot roast and stir fry. Students can choose fruit, yogurt, waffles and pancakes in the area called My Pantry and fresh-baked bread and sandwiches in The Bakery. The Grill, Salad Bar, beverages and desserts were part of the former cafeteria, but they will all receive new equipment to keep up with the growing student population and to diversify options.
"The stations offer students a wider variety of choices and allow our staff to focus on one specific task," said Quintin Eason, manager of food services. "This allows us to focus on the quality of food we are producing and get students their food faster."
The evening snack bar will be replaced with a fourth meal, which will offer food after dinner hours such as pizza, salad, wings, or other popular foods.
Sterling College has partnered with Chartwells to fund the renovations to the facilities as an investment in the College's dining service program. Executive Vice President and Chief Financial Officer Scott Rich said that the improvements will not affect the students' meal rate.
Along with the cafeteria, other areas of the student union will be upgraded this summer. The style of the cafeteria will be carried into Chandler Boardroom along with technology upgrades to facilitate presentations and guest speakers.
Rich said, "The renovations to Chandler Boardroom are possible because of a kind and considerate gift from the Lois Chandler family, in honor of Jerome who passed away in 2011. The family funded the initial renovations over 20 years ago. This contribution will allow the room to tie into what Chartwells is doing."
Cornerstone, the area to the north of the cafeteria, will also undergo multiple changes. Taking on a coffee shop feel, the room will get new flooring and repainted walls, along with a stage and screen for a small performance venue. The Fireside room will also have new carpet installed and repainted walls to give the entire building a unified look. Sterling College is posting pictures of the renovations at www.sterling.edu/gallery/cafeteria-renovations.