Renovations to SC Art and Media Center in progress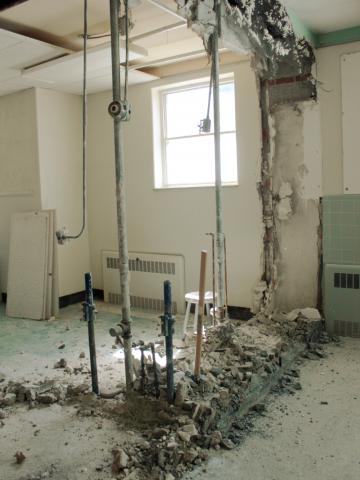 This summer, the Sterling College Art and Media Center is receiving a facelift. This renovation is being done by the Service Department with special thanks to Rick Winters, plumber, Ben Swihart, and student workers Micah Mitchell, Drew Davis, Isaac Stephenson and David Tank.
Taking on a fresher look, the Art and Media Center will get resurfaced walls and new coats of paint in the painting and drawing studios, a new projection system for the painting studio, improvements in the student workroom, and minor equipment upgrades along with the rearrangement of the drawing and ceramics studios. The renovations to the Art and Media Center will allow for better use of the space available while also refreshing some of the spaces in the building.
Assistant Professor of Art Daniel Swartz said, "We are excited about the changes occurring this summer, particularly the merging of two smaller studio spaces into a larger space. We had come to the point, in order to keep pace with the growing enrollment in art and design, that a studio space was needed that could hold larger classes."
The renovations are scheduled to be completed and ready for students to use by the beginning of the upcoming school year.