Ryan Ehresman directs the play "Leaving Iowa" for his senior show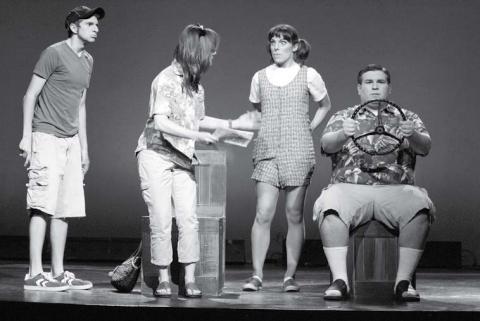 Wednesday, April 10, 2013
As opening night approaches quickly, the director of the production "Leaving Iowa", senior Ryan Ehresman, wraps up the remaining loose ends of the show and recalls the experiences that directing this show has given him.
"Leaving Iowa" tells the story of a boy, his dad, and a family road trip. Ehresman, in his directing, has tried to accentuate and emphasize the warmth of the family and the bond between a man and his son.
"I picked this show with the help of Matt Winning and Aaron Kennedy in October," Ehresman said, "and I started working on analysis, preparation and audition stuff during Christmas break."
Ehresman directed a one act play last spring and he has had quite a bit of choreographing and music directing experience at various children's theaters and schools in Wichita.
"It's been a lot more work than I expected. Working with the actors has been about what I thought it would be, I just haven't had an extensive amount of experience on the technical side of things, but working with pros like [junior] Kyle Davis, [freshman] Kayla Van Nover, [junior] Patrick Wright and [junior] Ashley Hasart has made it a lot easier," Ehresman said.
Another challenge that Ehresman has faced in directing this show was having to deal not only with the acting and blocking, but with the lighting, sound, props, set, publicity, and the whole thing.
"It's been tough, but definitely a great learning experience," Ehresman said. Additionally, casting the show, as one might expect, brought about challenges of its own.
"Casting was super difficult," Ehresman said. "There were a few roles that were very obvious as soon as the right person auditioned, but there were some roles that I bounced back and forth between different possibilities for days. Casting this show was the closest I have ever been to losing sleep over a decision."
The fruits of all this collective time and effort will be on display Friday and Saturday evening, April 12 and 13 at 8 p.m. in Culbertson Auditorium.