A Semester in India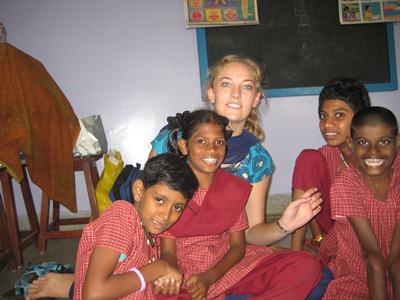 Tuesday, February 21, 2012
Last September, Sterling College junior Rebecca Barnes traveled a long way from her hometown of Hiawatha, Kan., - 8,889 miles, to be exact. Barnes traveled to Coimbatore, a city in Tamil Nadu, India, where she lived for three and a half months.
Through the partnership of the Best Semester program with Sterling College, Barnes spent her time attending class and participating in a service internship.
Studying abroad was a priority for Barnes during her college career. It's part of why she chose Sterling; she knew that SC would grant college credit for spending time in a foreign country through the Best Semester program. Originally, she wanted to go to Ireland. The European culture held a certain allure for her, and, "Also," said Barnes, "We have family friends in Ireland." After two weeks of deliberation, Barnes narrowed her choice down to two programs: Ireland or India. Upon considering benefits to each program, Barnes chose India. The social working program offered by the Coimbatore school fit better with her psychology major and future goals than the Ireland option. Not interested in receiving several opinions, "No one knew that I had decided to do [the Best Semester India program] until after I got accepted," said Barnes with a half-mischievous, half-reticent expression. That decision, once discussed with parents, would open the door to a host of adventures for Barnes.
Overcoming cultural differences was a challenge that pushed Barnes to adapt. She was required to wear a salwar – a traditional women's tunic, trousers, and scarf – to class. The most difficult thing for her to overcome, however, was not the dress code. It was the class schedule. "We were supposed to start class at 9:30 a.m., but the teacher would show up any time between then and 11 a.m. We had to wait for the teacher for that hour and a half, and then when he arrived, we had to rise. If the teacher was late, we still had a lecture for the scheduled amount of time, which meant that our classes would be thrown off for the rest of the day," said Barnes. "It got to the point where we were given new class schedules each week. We'd get one on Monday, but we'd be off of it by Tuesday. I just never knew what the next day would be like." Barnes eventually came to accept it as one of the many aberrations of her time in India.
On Wednesdays, Barnes went to Cottlengo, an orphanage school for mentally and physically handicapped children. Run by nuns, Cottlengo includes three school groups: day care, six to ten year olds, and vocational training for the older children. Her time at Cottlengo was considered a service internship, so she received college credit for it as well. She was out of her comfort zone when she found out she would be teaching English to the grade school children. "To tell you the truth, I was terrified. One of the nuns asked me if I had any experience working with handicapped children, teaching, or English as a second language and I hadn't done any of those things. She told me, 'Well, the best way to learn is to just throw yourself into it.' She pushed me in the room and left," Barnes said. "I had to think on my feet. We learned about shapes, colors, and how to high five by counting on our fingers. After that first day, I grew to love going to Cottlengo. I worked with the adults, gardening and making candles. The elementary students and I played Simon Says and had dance parties. It was the highlight of my trip."
Among other things, Barnes also went marching with Indian social workers to campaign against alcohol and tobacco abuse in the home, took an 8-hour overnight train ride to the coast, and was exposed to severe poverty in the slums. She also got attacked by a cow on a walking tour at Varanasi, the birthplace of Hinduism. "One of my friends saw it coming and took a picture, but didn't tell me," Barnes said. "I had a huge bruise on my side for a week."
Her Indian experience now behind her, Barnes has reflected on her time and says she would recommend studying abroad and the Best Semester program to anyone. She now knows that certain parts of her have been changed forever. "My ideas of poverty are drastically different. For most people in classes like Ethics or Gendered Communications, poverty is something to conceptualize. I've seen it," said Barnes. "It has inspired me to want to live in internationally and adapt to another culture. I want to work in the foster care system or maybe make a difference in relief work or development."