Senior Associate Professor Celebrates 40 Years of Service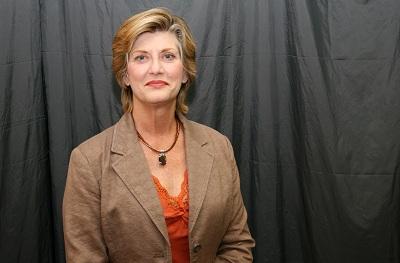 Wednesday, November 2, 2011
Senior Associate Professor Diane DeFranco-Kling was honored for 40 years of service to Sterling College this fall. DeFranco-Kling is the acting and movement specialist, choreographer, and costume designer for the College. Over the years, she has taught a variety of theatre and dance classes, and has encouraged hundreds of students to pursue acting, whether it is at Sterling College in the yearly musicals and plays, or on to professional acting from New York City to Denver and Los Angeles.
"Diane has been a consistent and dependable faculty leader at Sterling College," said Dr. Gregory Kerr, vice president of academic affairs. "Her life has been poured into the theatre department and her students for the past 40 years, producing quality shows and students who excel in their field." 
DeFranco-Kling started her teaching career in 1960 in Des Plaines, Ill., as a dance instructor at the June Rold School of Dance. Additionally, she became the recreation leader and dance teacher for Park District in 1961. As she finished her bachelor's degree in speech and theatre from Western Illinois University, DeFranco-Kling spent two years as a radio announcer for WKAI in Macomb, IL.
Upon completion of her degree, DeFranco-Kling moved to Kansas to be with her husband, Gordon Kling, who was then teaching at Sterling College. She found a job nearby, as the speech and drama teacher for Sterling High School. Two years later, an opportunity to join the faculty at Sterling College presented itself, and DeFranco-Kling began as an instructor for communications and theatre arts. She now serves as a senior associate professor in the department.
"I love the challenge of bringing students through a show," said DeFranco-Kling. "From coaching, acting, and directing, the variety of ways in which I get to work with students is tremendous. You get to know them so well, and it is wonderful to see them succeed."
"Sterling College has been a wonderful place to teach. I love the diversity in my responsibilities. I may be teaching dance one hour, and then helping students learn about costume design the next. There aren't many places that you would be able to teach such a wide array of arts. It allows me to teach all of the areas of theatre and performance that I love," said DeFranco-Kling.
DeFranco-Kling has performed in several productions such as Taming of the Shrew, Midsummer Night's Dream, As You Like It, Steel Magnolias, Dames at Sea, Nunsense, along with several others. She earned her MA in Theatre Acting and Directing from the University of Kansas in 1974 and is an active member of the Association for Theatre in Higher Education. She was a member of the School Board for USD 376 for 20 years, and worked with the Kansas State Department of Education on refining state standards for the theatre arts. She has been a theatre festival adjudicator and has worked as a costume consultant and designer for area high school and college theatres.