Small Fire at Sterling College's Gleason Center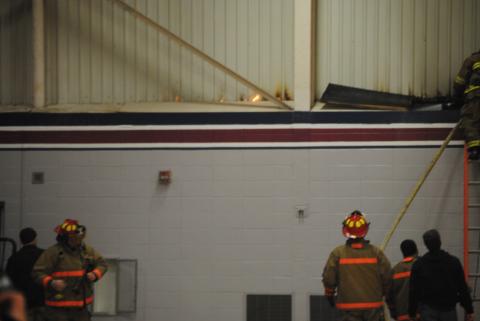 Thursday, February 6, 2014
Sterling College's Gleason Center was evacuated on Thursday, February 6 in between the men's and women's basketball games between the Sterling Warriors and the Tabor College Blue Jays due to smoke.
During the evacuation when officials were going to determine the cause of the smoke, flames started rising against the west wall.
The Sterling Fire Department responded to emergency calls and extinguished the blaze.
"The evacuation went very well. I am proud of our students and the Sterling community for immediately leaving the area when instructed. I would also like to thank the Tabor community and Tabor President, Dr. Jules Glanzer, for assisting in our efforts," President Scott Rich said.
The Fire Department has yet to determine an official cause of the fire.
The gym was filled with approximately 800 people. The men's basketball game will be rescheduled for a later date. That announcement will be made at www.scwarriors.com.
Sterling College is a Christ-centered, four-year college located in Sterling, Kan., with a mission to develop creative and thoughtful leaders who understand a maturing Christian faith. For more information, visit www.sterling.edu.
-30-