Sterling's Petersen accepted for artist residency in Finland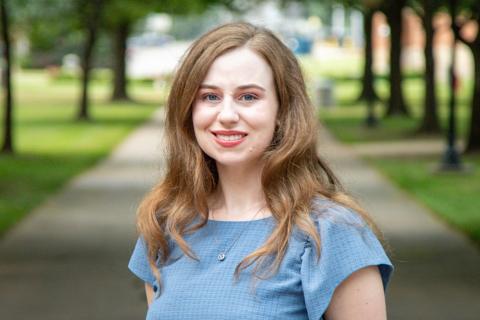 Tuesday, September 12, 2023
Katie Petersen, Sterling College's assistant professor of fine arts and design, has been awarded the opportunity to participate and experience a one-of-a-kind artist residency at the esteemed Arteles Creative Center in Haukijärvi, Finland. The artist residency program is called Silence Awareness, Existence.
"What an exceptional opportunity for a first year professor. We are so proud of Katie, and applaud both her skills and efforts to be presented with such a prestigious artist residency in Finland," said Dr. Ken Brown, vice president for academic affairs and dean of the College. 
Arteles Creative Center is nestled amidst the breathtaking landscapes of Finland's countryside, away from city life distraction. Arteles Creative Center is internationally renowned for fostering innovation, collaboration, and the value of artistic freedom. Petersen will draw inspiration from the serene surroundings, engage with fellow international artists, and experiment with new techniques, materials, and ideas. 
This residency will occur from January 2-30, 2024, during Finland's coldest month. During this time, there are only six hours of daylight, and on clear nights the milky way is visible, and there is a chance to see the northern lights. As a part of the emphasis on introspection, and silence, participating artists are asked to participate in one to two days of silence during the week where there will be no speaking and creating noise is avoided. These silent days allow the artist to clear their minds to focus on their craft and deepen their experience at the Arteles Creative Center.
Throughout the residency, there will be a heavy emphasis on meditation, introflection, and
mindfulness as inspired by the winter landscape of Haukijärvi's forests and lakes. Petersen will create artwork in watercolor and alcohol inks, in the artist studio provided by the residency. The artwork created will be inspired by spiritual introflection, by nature, and the winter landscape surrounding Arteles Creative Center. Petersen will also have the chance to experience Finnish culture during her residency and to build connections with other international artists attending the residency and a chance to be published in the Artels Catalogue.
"I am very excited to share what I learn and my experience, applying and participating in an international artist residency, with students at Sterling. I encourage fine arts students to apply to artist residencies locally, nationally, and internationally and continue seeking opportunities to show their artwork. In addition, I encourage my students to be curious and to seek new experiences within their artwork and outside of the studio classroom," said Peterson. 
Sterling College is a Christ-centered, four-year college located in Sterling, Kansas, with a mission to develop creative and thoughtful leaders who understand a maturing Christian faith. For more information, visit www.sterling.edu.