Sterling Arts Showcase closes the year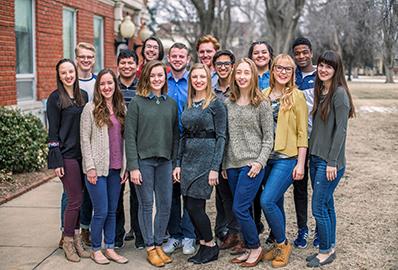 A celebration of all things arts will close the school year at Sterling College this Friday and Saturday, May 3 and 4, as the Communications, Media and Theatre Arts Department present the "Sterling College Arts Showcase." The special event will begin at 7 p.m. in Culbertson Auditorium on the College campus and will include one-act plays, student films, several musical selections, a dance and various artists and competitive speakers sharing about their work. 
The Showcase is the idea of Sterling College Theatre faculty member Sasha Hildebrand and Sterling College Music faculty member Marisa Callan. 
"Sterling College Theatre has always closed the year with one-act productions directed by the Directing Class students," Hildebrand explains. "That's always been popular with students and our audiences, but we wanted the final arts event of the year to be more of a celebration of everything arts related. Therefore, we came up with this Showcase idea. Our vision is for audiences to not only be entertained by some one-acts and upbeat songs but to be stretched in hearing an artist describe their work as well as possibly seeing dance and film."
"One of the absolute best things about being a student in the arts at Sterling College is cooperation that happens between departments," Hildebrand continues. "At many colleges and universities – even small ones like Sterling – you just don't see that. Here, we work together. The music department owns their parts of the musical productions we present. Music and theatre programs sometimes have nothing to do with each other. That's not the case here." 
There's a natural reason for that at Sterling. Not only are Hildebrand and Callan Sterling College arts graduates themselves, but the other music faculty, Tiffiney Harms and Larry Brownlee as well as Communications faculty member Ryan Corwin are, too. 
"Roughly half of Sterling College students are involved in the arts in some capacity. Many of the students are involved in more than one arts area," Hildebrand says. "Of course we have a lot of choir and band students involved in theatre but we also have art students working on costumes and communication students helping with theatre productions. Both the faculty and the students have a natural affinity for one another and really love to play and work together," she says.
Both Friday and Saturday nights of the Arts Showcase will feature the same works. There will be eight short one-acts which will include the work of students Seth Rogers, Ardynn Brooks, Emma Kwasiborski, Isaac Pena, Alyssa Hershey, Jojo Maxwell, Savanna Burt, Kaleigh Pitre, and Micah Watney. Some of the musical performances for the Showcase will be from the musical movie "The Greatest Showman," the Broadway musical "Dear Evan Hansen," and the animated film "Sing!" Sterling College art students Tiffany Adams, Calista Holmes and Lexie Sutter will highlight some of their work as well. Members from the Communications discipline will share a bit about their successful Forensics and Debate season. Members from the Media discipline will share several student films that have been created throughout the year. 
The Arts Showcase will begin at 7 p.m. both nights. There is no admission charge for the Showcase; however, audience members may make donations to the arts programs at Sterling College. 
Sterling College is a Christ-centered, four-year college located in Sterling, Kansas, with a mission to develop creative and thoughtful leaders who understand a maturing Christian faith. For more information, visit 
www.sterling.edu
.