Sterling College's Prugh to exhibit "Meditations" collection in Art Gallery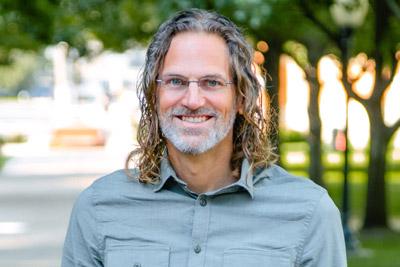 Wednesday, September 7, 2022
He is a man with two names who has studied mathematics, philosophy, and art. He has had numerous essays published in publications like "The New Criterion." Until four months ago, he and his wife and four children, all under the age of 13, were living on a 28-foot sailboat off the coast of Florida. Now, he and his family live in land-locked Sterling, KS where he spends days in front of Sterling College students studying Art & Design as well as working on his own art. He is Brian Prugh, Sterling's new assistant professor of art & design, whose exhibition "Meditations" runs at the Sterling College Art Gallery from September 13-29.
Prugh, his wife Anna, and their children Roo, Zibby, Mia, and Xani had been living off-grid off the coast of Florida for five years until they moved to Sterling in May. He documented the adventure on his YouTube channel, "Sailing Blowin' in the Wind," which has found an international audience.
Prugh goes by the name Tom Break for his artwork and writing. He said, "My 'art name' is really just a form of my given name. 'Break' is a translation of the root of 'Prugh' that's easier to pronounce. 'Tom' is my confirmation name. I've started using the name for a number of reasons, but I think the most important is that it's helped me to separate myself and what I want out of life from the work."
He studied math and philosophy in college.  He said, "But the thing that I realized I was searching for could best be found through visual art, so that's where I ultimately ended up." 
Tom Break has exhibited works nationally in commercial, nonprofit, and college galleries in cities like New York, Chicago, St. Louis, and Denver, and has works in private collections nationally and internationally. 
His exhibition, "Meditations," brings together pieces of two bodies of work. There are three works made from cut and layered black tulle (a transparent fabric used for ballet tutus, among other things) - what Break call his "tulle works." There is also a sequence of text paintings based on the traditional stations of the cross. Break said, "The three tulle works are each related to a person of the Trinity, so I've been grouping them together under the broader title "Meditations" on the Trinity. When I was putting the show together, I realized that the Stations were meditations, too, so that's why I stuck with that title."
Break explains his use of tulle, "During a period of intense material investigation, I noticed that when I hung tulle on the wall, the material looked exactly the same as its shadow, so it created a 'reflection' on the wall. It created a lot of really interesting perceptual effects that ended up flowing into the content of the works."
His work on the stations of the cross came out of a series of paintings in which he would paint a text onto canvas, and then adjust and re-adjust. He said, "I adjusted until it read well, that is, until the experience of reading the text seemed fitting to the text that was being read," he said. 
Prugh plans to host three exhibitions of professional artists, starting with his own, through the year plus several student art shows. He said, "I think it's really important for everybody, especially college students, to encounter real works of art that are being made right now and that are searching after those deep truths that our screen and image culture would like to distract us from seeing."
Prugh hopes to present work that is both contemporary and challenging and help the viewer to feel those invisible realities that support a maturing Christian faith – which is in keeping with Sterling College's mission.
Prugh said, "Teaching for me is an outgrowth of my artistic and philosophical searching. That kind of searching is pretty invisible to our world. There's this moment in life that colleges like Sterling protect, this moment when students are turning the corner from being students and followers to being teachers and leaders, and in that moment, there is a critical opportunity for them to begin their own search for those difficult things that make life harder but that also make it worth living. I think colleges like Sterling protect that time and honor that search because people who are searching make better leaders, better parents, better citizens, and better people—precisely because they have a livelier sense of what really matters in life. I teach because I've walked some way down this path, and it's time for me to turn around and help other people start walking on it, too."
The exhibition, "Meditations" will be at the Sterling College Art Center Gallery at the corner of Washington and Eighth Street in Sterling. There will be an opening reception for the exhibition from 4-6 p.m. on Tuesday, September 13. The Gallery is open 9 a.m. to 5 p.m. weekdays. There is no admission charge. 
Sterling College is a Christ-centered, four-year college located in Sterling, Kansas, with a mission to develop creative and thoughtful leaders who understand a maturing Christian faith. For more information, visit www.sterling.edu.