Sterling College announces Griffis as Director for the Integration of Faith and Learning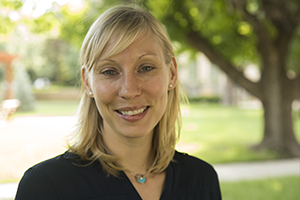 Sterling College has announced Dr. Rachel Griffis, assistant professor of language and literature, has been named the director for the integration of faith and learning. As such, Griffis will create supportive resources, structures, and strategies to integrate faith and learning, focusing on the critical examination of academic content through the lens of a Christian student.
"Integration of faith and learning is critical to the mission of Sterling College. Our professors have been integrating faith into the classroom for years but frequently express how helpful it would be to have someone who can be a resource when they are looking for new ideas and current research on best practices. Rachel has already performed research in this area and has already proven to be a leader in this area. Her knowledge will be of great value to her colleagues," said Dr. Ken Brown, vice president for academic affairs.
Griffis' role will address how professors can include faith in many aspects of the classroom such as special topics, discussions on content and professionals in the field, assignments, devotions and prayer.
"In this role, I'll help faculty and students make connections between their disciplines and the life of faith," said Griffis. "As faculty, we are continually refining our courses to challenge students in new ways. One of my goals is to share resources that will aid faculty in developing the spiritual and theological aspects of their classes."
Sterling College is a Christ-centered, four-year college located in Sterling, Kansas, with a mission to develop creative and thoughtful leaders who understand a maturing Christian faith. For more information, visit www.sterling.edu.