Sterling College Art Center Hosts Exhibit Featuring Photographs of Lawn Art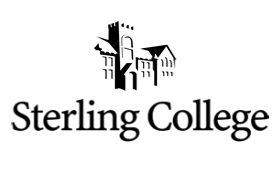 Thursday, February 11, 2010
Big Bird, monkeys, piglets, gargoyles, and the Virgin Mary-the subjects of Jeremie Riggleman's art are very eclectic, and his photographs of them are on display at the Sterling College Art Center. His solo exhibition, which came about through his connections with Sterling College Art Professor David Harmon, features photographs of lawn ornaments.
"He makes these images look as though they were easily captured," said Harmon in his review of Riggleman's work, "yet this is deceptive. These are not snapshots, but carefully crafted images. Riggleman has deliberately found these objects and imbued them with meaning."
Riggleman first became interested in lawn art at a young age, when he and his mother began pointing it out to each other as they passed by in a car. "Lawn ornaments make me curious," he said. "Why are these objects here and how were they chosen? Is this an attempt to make art a part of everyday life? Does this say anything about the inhabitants or about our culture as a whole? The frequency of these objects makes them invisible, so here I pause, and ask the viewer to pause, and I point them out."
The most complex piece in the show, from Riggleman's view, is a photo of Jesus and Big Bird. "Because of what each of these represent separately in our culture, and what they may mean side-by-side, this is a difficult piece, a difficult concept," said Riggleman.
It is this conceptual quality of Riggleman's art that caused SC Professor Harmon to invite him to present a solo exhibition. The two first met when Riggleman was a student of Harmon's at Bethel College, Ind. "Dave Harmon was my professor there for most classes of my B.A. in studio art," said Riggleman. "He has been a wonderful resource for me even since my graduation. It has been beautiful that he would still take interest in me, my work and my life even beyond our time at Bethel." Last year Riggleman showed Harmon images he was submitting for graduate school, and Harmon suggested he do a show at the College.
Riggleman is in India right now, working with his wife, Kara, at an orphanage and school in the Himalayas. They plan to enter the Peace Corps in September for a two-year term, and then Riggleman will continue to pursue his Master of Fine Arts degree at Eastern Michigan University.
The show runs through the month of February and is free and open to the public. Sterling College's Art and Design Center is located on the corner of 8th and Washington Streets in Sterling and is open weekdays from 8 a.m. to 4 p.m.