Sterling College begins commencement activities on Friday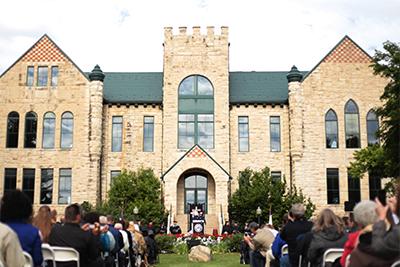 This year's Sterling College Weekend Celebration will be unlike any other previously as two classes will be honored: the Class of 2020 and the Class of 2021. The graduating seniors will gather in the cafeteria for the annual senior breakfast provided by the Alumni Association and Career Services on Friday morning, followed by their class pictures on the steps of Cooper Hall. 
The traditional bagpipes will begin at 9:45 a.m. on Saturday to begin Commencement, which will take place on East Cooper Lawn. Commencement will feature speaker Paul Brandes '11, chaplain and associate vice president for student life, who will share his speech, "Resilience Is Still Required." 
Brandes has served as Sterling's chaplain since 2019 and now oversees the diversity committee, church relations and the Freeman Lecture Series in addition to continuing to oversee the work of spiritual life on campus. He previously served as the executive pastor for Christ Community Church's Brookside campus in Kansas City, Mo. 
"Graduating from college is an incredible accomplishment, and a commencement ceremony is an incredible opportunity to honor those who have worked so hard to achieve that goal. I could not be more excited to serve as commencement speaker at my alma mater. This past year has been difficult, and my aim is to craft a speech that speaks to our unique moment and the challenges these classes have navigated to be able to cross the stage to celebrate their accomplishments," said Brandes.
More information on Sterling College's Commencement Weekend Celebration can be found at www.sterling.edu/academics/commencement. 
Sterling College is a Christ-centered, four-year college located in Sterling, Kansas, with a mission to develop creative and thoughtful leaders who understand a maturing Christian faith. For more information, visit www.sterling.edu.