Sterling College Commencement festivities begin May 11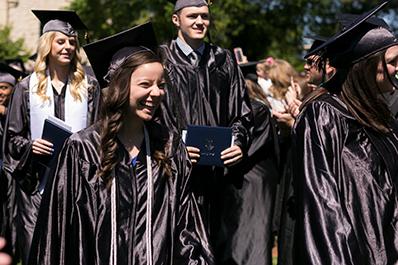 Cooper Lawn turned green and the trees began to bud just in time for the Class of 2018 as they celebrate their time at Sterling College May 11-12. Seniors will welcome friends and family to campus Friday evening at 7:30 p.m. for Baccalaureate, as they set aside time for a final worship service in Culbertson Auditorium in Spencer Hall. The special spiritual send-off will be followed by a short reception where refreshments will be served.
Commencement will begin at 9:45 a.m. on Saturday with the traditional bagpipes played by the City of McPherson Pipe Band. The ceremony on East Cooper Lawn will include special speaker Matt Jaeger '00, who will challenge the graduates with his speech "A job or a calling?" Jaeger is the president and co-founder of Emergent Green Energy, an agricultural business in Minneola, Kansas.
Jaeger graduated from Sterling College in 2000, receiving his bachelor's degree in history and government with an education licensure. While at Sterling, he was a four-year member of the Warrior football team. He has a strong family connection to Sterling as both his parents and numerous other family members attended the College. He currently serves on several boards including the Sterling College Board of Trustees.
Jaeger's company, EGE, is a diversified company that produces bio-diesel, manufactures chemical adjuvants, and provides recycled cooking oil collection services. He also farms and raises cattle alongside his brother and family.
Sterling College is a Christ-centered, four-year college located in Sterling, Kansas, with a mission to develop creative and thoughtful leaders who understand a maturing Christian faith. For more information, visit www.sterling.edu.