Sterling College faculty art show opens Oct. 17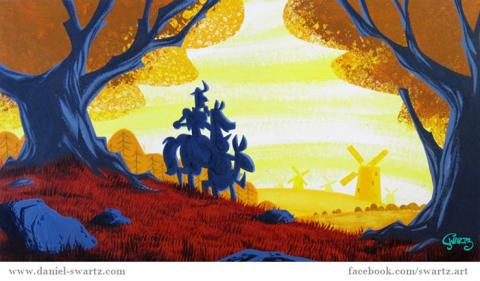 This year's Sterling College Homecoming celebration will include the opening of the annual faculty art show on Thursday, Oct. 17 from 5-7 p.m. The show will feature the recent work of Hanna Kozlowski-Slone and Daniel Swartz, assistant professors of art and design, and Joel Garrett and David Slone, lecturers in art and design. This come-and-go reception will include a brief talk from the artists at 5:30 p.m. The work will be on display through Nov. 8.
Kozlowski-Slone will display a selection of paper-cuts, oil paintings and mixed media pieces. The selected works were selected from pieces created over the past few years as well recent work developed over the summer. 
"Visually, these works are linked through their use of color and decorative motifs, but conceptually, they present multiple ideas. I am excited to share this visual synthesis with the community," said Kozlowski-Slone.
Swartz will show a variety of published illustrations created over the last year. He will also display a number of personal development pieces in acrylic and mixed media.
Garrett and Slone are serving as adjunct lecturers in art appreciation and photography respectively. Garrett is a high school art teacher at Nickerson High School. His portion of the exhibit will consist of several ceramics pieces.
Slone has been working as an independent artist for the past year and a half. The works on display will be a series of oil paintings developed over the past year since transitioning from his previous position as a graphic designer where he was in charge of designing advertisements for a variety of companies.
"We are fortunate to have such a skilled set of artists and teachers in our department," said Swartz. "The experience they bring to the table from their practice and exhibition are valuable resources for our students. The annual faculty show is a great time to celebrate our personal work and connect with students and community."
Sterling College is a Christ-centered, four-year college located in Sterling, Kan., with a mission to develop creative and thoughtful leaders who understand a maturing Christian faith. For more information, visit www.sterling.edu.
CUTLINE: Artwork by Daniel Swartz