Sterling College to host regional conference on community in 2022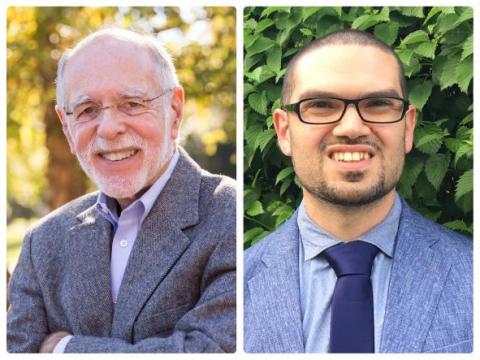 Tuesday, September 7, 2021
September 7, 2021, Sterling, Kan. – Sterling College is set to host a regional conference, "Fostering Community and Hospitality on a Diverse Campus" funded by a grant from the Lilly Fellows Program. The conference will take place on May 16, 2022, on the Sterling College campus in Sterling, Kan. The conference aims to gather faculty, staff, and administration from multiple church-related colleges and universities in Kansas in order to discuss and deepen our commitment to diversity and its connection to our respective missions as faith-based institutions.
"The Lilly Fellows Program made funds available for network schools to develop programs that address injustice and racial reconciliation, and we believe that we are well-situated to host a successful regional conference that will help both us and other institutions deepen commitment to our common mission in higher education. This conference will strengthen church-related higher education by providing learning opportunities for multiple faith-based institutions on topics that are integral to Christian faith and urgent both within and outside the academy. We have two fantastic keynote speakers who are intelligent, dynamic, personable, and who care deeply about the conference theme," said Dr. Rachel Griffis, assistant professor of language and literature and director for the integration of faith and learning.
The one-day conference will feature two keynote speakers and include break-out sessions on specific topics, a question-and-answer session with the keynote speakers, and time for fellowship and collaboration. The keynotes speakers are Dr. Richard Hughes and Dr. Nathan Luis Cartagena. 
Hughes has worked at the intersection of religion and American culture over the course of a 50-year career, specializing in religion and American identity, religion and race in America, religion and American higher education, and the role of Christian primitivism in American life. His eighteen published books include "Illusions of Innocence: Protestant Primitivism in America" (University of Chicago Press), "Myths America Lives By: White Supremacy and the Stories that Give Us meaning" (University of Illinois Press), "Christian America and the Kingdom of God" (University of Illinois Press), "Reviving the Ancient Faith: the Story of Churches of Christ in America" (ACU Press), and "How Christian Faith can Sustain the Life of the Mind" (Eerdmans). His newest book — "The Grace of Troubling Questions: Vocation, Restoration, and Race" — will be published by ACU Press in 2022. Having taught at Pepperdine University, Southwest Missouri State University, Abilene Christian University, and Messiah College, Hughes currently serves as scholar-in-residence in the Center for Christianity and Scholarship at Lipscomb University in Nashville, Tenn. 
A son of the US South and Puerto Rico, Cartagena is an assistant professor of philosophy at Wheaton College in Wheaton, Ill., where he teaches courses on race, justice, and political philosophy, and is a fellow in The Wheaton Center for Early Christian Studies, and an affiliate faculty for the Latin American and Latino Studies Program. He serves as a scholar-in-residence for World Outspoken, and is writing a book for IVP Academic. 
"By hosting a regional conference on the topics of community, hospitality, and diversity, Sterling College hopes to encourage professionals from multiple church-related colleges and universities to realize their role as leaders at this fraught moment in American history, thereby shaping the character of these institutions of higher-learning to reflect justice, peace, and reconciliation and the significance of these practices in the Christian tradition," said Griffis.
"I could not be more eager to partner with Dr. Griffis in hosting this conference. Sterling College has the privilege of being a diverse campus in a number of ways, and our unique Christian mission compels us to continually seek to grow in our hospitality. I'm excited to see how this gathering catalyzes hospitality not just at Sterling College, but on other campuses as well," said Paul Brandes '11, chaplain and associate vice president for student life and church relations. 
Sterling College is a Christ-centered, four-year college located in Sterling, Kan., with a mission to develop creative and thoughtful leaders who understand a maturing Christian faith. For more information, visit www.sterling.edu.