Sterling College hosts Groundbreaking Ceremony for Gleason Center Expansion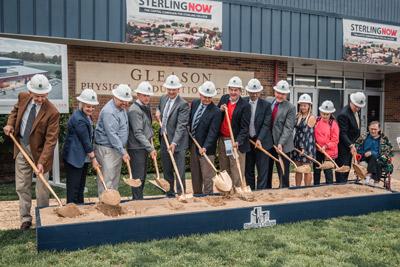 Sterling College officially broke ground on the expansion of the Gleason Physical Education Center during its groundbreaking and dedication ceremony on May 10. Students, faculty, board members, friends and supporters gathered to officially begin the first project of the SterlingNOW capital campaign.
"Today is a good day for Sterling College, and a good day for the Sterling community. This project will be transformative for our campus and will benefit our students and our campus community in many ways. We are grateful, once again, for God's faithfulness to this institution exhibited through the generosity of loyal supporters," said Dr. Scott Rich, president.
The project will add 32,526 square feet of new space including three new classrooms, 20 new offices for faculty and coaches, the Sterling College Athletic Training and Treatment Center, a new wellness center, the First Bank Lobby & Hall of Fame, new and additional locker room space and the new Wilkey Fieldhouse.
"SterlingNOW, the capital campaign for Sterling College has raised a total over of $23.2 million dollars. A little over $22 million of this total is earmarked for our construction projects, to which 492 individuals or families gave donations and pledges. We are blessed by this amazing support, which aligns with the belief that the Sterling College mission is special, it is unique and it is in even more distinctive in the world we are living in today," said Glennys Doane '73, board of trustees member and capital campaign chair.
In addition to expansion at the Gleason Center, a new 6,000 square foot facility to be located west of the College's tennis courts. This facility will serve the College during the 2019-2020 school as a temporary wellness center as construction displaces the current weight room. In the fall of 2020, the facility will be indoor training space for the softball, baseball, track and cross-country programs and include offices for coaches.
"What the Gleason Expansion will do for the athletic department will completely transform the lives of both coaches and student-athletes," said sophomore Kylah Comley of Sterling. "The benefits of expanding and adding another gymnasium will not only benefit those on campus, but it will also expand opportunities for the community."
Construction on the Gleason project is set to begin in late May. The grand opening for both buildings is slated for August 2020.
The Gleason project is the first of three building projects that are part of the $25 million SterlingNOW campaign. The College also plans to build Zaid-West Science and Research Center, a 30,000 square foot science and math building and renovate Thompson Hall, a 24,000 square foot building that currently houses the science, math and business programs.
For more information on SterlingNOW, including ways to give to the campaign, visit www.sterling.edu/SterlingNOW.
Sterling College is a Christ-centered, four-year college located in Sterling, Kansas, with a mission to develop creative and thoughtful leaders who understand a maturing Christian faith. For more information, visit www.sterling.edu