Sterling College professor completes Ph.D. in Education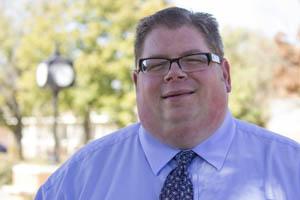 Tuesday, January 14, 2014
A good educator will teach their students how to think critically, but how to teach critical thinking skills is still a difficult topic for many educators. Spencer Wagley, associate professor of education at Sterling College, wrote his dissertation on this topic to successfully complete his Ph.D. in Education from Capella University. Students will begin calling him Dr. Wagley as they return for classes this spring.
"I developed an interest in critical thinking during a doctoral course I took. I found the topic to be relevant and necessary for the field of education. It really has developed into a passion. I hope to continue to explore the subject," said Wagley.
In his study, Wagley used a qualitative description method to compare the current knowledge, skills and dispositions toward critical thinking of teacher education candidates and teacher education faculty. He found that both parties had a similar understanding of the topic, meaning that as faculty grow in their understanding of this area, so do their students. Wagley believes that faculty can increase their students' ability to think critically by intentionally teaching and modeling critical thinking practices.
"This study has encouraged me to add more critical thinking exercises to my classes. Our classes can easily focus on the primary levels of remembering and understanding information, but what is helpful in a real classroom is the ability to apply theories to real-life situations and develop new techniques of their own. Incorporating more opportunities for critical thinking will help our teacher candidates prepare," said Wagley.
"Spencer's doctorate is an achievement of which he can be proud. The data he collected for his dissertation is valuable for all educators, and I am excited to see how he applies it to his classes," said Dr. Gregory Kerr, vice president for academic affairs.