Sterling College Theatre to perform "An Ideal Husband"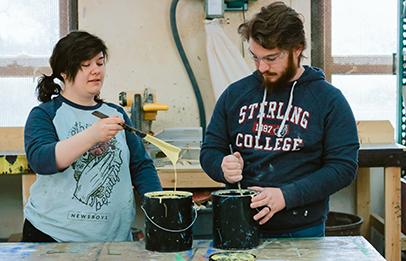 Scandal! Blackmail! Corruption! And laughter—Oscar Wilde's comedy "An Ideal Husband" has it all! It is being brought to life on the Sterling College Theatre stage by husband-wife team Micah and Ava (Brooks) Bachert this Friday, April 8, at 7:30 p.m. and at 2 p.m. on Saturday, April 9. The couple will graduate next month, and this show is their senior project.  
"I love classics and I grew up loving Wilde. I knew I wanted a script with a complex combination of both drama and comedy. This play is interesting to me because even though it is technically a comedy, it's full of drama, heart, and emotions. The play is a kind of universal story. At its core, it's about scandal and private lives leaking into public persona, and I don't think that has changed at all in the 125 years since the play was written," said Ava, who is directing the show. 
Her husband, Micah, is designing the set for the show. 
"My scene design, like the script, is a layered piece of art that has some pieces missing. The beauty of this is that if you focus too much on what is missing, you will miss the point of it. My set is not the 'ideal set,' just like Robert is not the 'Ideal Husband'," said Micah. 
To depict the show's three settings Micah has designed a revolving set which has not been done in recent years on the Culbertson stage. He feels the revolve will help in bringing the action as far forward as possible to aid the intimacy that each scene calls for. 
"Theatre is storytelling. I love all aspects of telling a story. Theatre can be an escape from the real world or a window into other people's reality. It's a wonderful way to connect to other people's emotions," said Ava. 
Theatre is also what brought Ava and Micah together. The Bacherts are the latest in a long line of couples who met and worked together at Sterling College Theatre which also includes Sterling College Executive Arts Director Dennis Dutton '82 and his wife, Sterling High theatre director Betsy (Halloran) Dutton '82. 
"We can easily count two dozen couples who met doing theatre at Sterling," said Dennis.
Micah Bachert came to Sterling from New Mexico to be a soccer player and major in pre-physical therapy or athletic training. Ava has family heritage at Sterling. Both sets of her grandparents worked at Sterling College and her mother is an alum. Ava knew she wanted to major in theatre and focus on performance, costuming and directing. 
 Micah started his interest in theatre while in high school. 
"Theatre brought us together because at the time we started getting to know one another, we were totally different people. It was theatre that piqued her interest past the 'athlete' I had a reputation as being. It was choir, musical theatre, worship, and my 'handyman' inclination that brought us together," said Micah.  
Their life has revolved around theatre so much so, that Micah proposed on stage in front of the audience following the curtain call of the closing performance of last year's musical Carousel. For their spring wedding "costumes" for the wedding party were designed and constructed with a fairy-tale like vibe. 
"I have been so blessed to find someone that understands my passion and can support me and help me grow in that. I always said that I wanted to meet someone that I could work with professionally, would understand what I'm going through and the world I'm in, and that we could share about our day and completely understand what the other person is going through," said Ava. 
"I hope to work in theatre alongside my wife at an educational institution. I want to build a theatre program and help teach others that have the desire and motivation to learn what I can teach them. I want to direct, do other areas of tech, and act every once and awhile," said Micah. 
The Bacherts will start their professional theatre careers this summer at the Clinton Showboat on the Mississippi River in Clinton, Iowa. Ava will be assistant costume designer and Micah will be the technical director at the 1930s era showboat which will present five musicals this summer. 
As they reflect on their time at Sterling College Theatre, Ava cites "The Liar" as her favorite project. She was lead costume designer for that show which included painting muslin fabric to create brightly colored 17th century era costumes. As for her performances, she was pleased to do both Mrs. Mullins the carousel owner in "Carousel" and Nurse Ratched in "One Flew Over the Cuckoo's Nest." 
Tickets to the Bachert-helmed production of Oscar Wilde's An Ideal Husband are $10 for adults and $5 for students and are available online at www.sterling.edu/arts or at the door before each performance. 
Sterling College is a Christ-centered, four-year college located in Sterling, Kansas, with a mission to develop creative and thoughtful leaders who understand a maturing Christian faith. For more information, visit www.sterling.edu.