Sterling College Theatre to stage "J.B."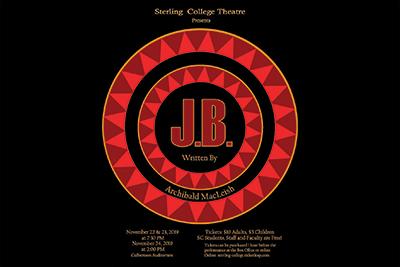 Tuesday, November 5, 2019
While it may be hard to picture a circus-style setting to tell the Biblical story of Job, that is exactly what Archibald MacLeish's Pulitzer Prize and Tony Award winning play "J.B." does. Sterling College Theatre will be presenting this rarely seen but widely studied play on Friday-Saturday, November 22-23 at 7:30 p.m. and on Sunday, November 24, at 2 p.m. in Culbertson Auditorium on the Sterling College campus. 
"J.B." is actually a play within a play. Two circus vendors, tired from selling their wares, chide and challenge each other, and decide to tell the story of J.B. (Job) in the circus ring.  After all others have left the circus, save a few, a story of human suffering emerges and the struggle to understand why. 
Situated in a circus venue and also in the world of "J.B." - New York City. The play within the play is set in the 1940-1948 era, recalling influences from Word War II, a time of hope, of disillusionment and of despair.
In "J.B." the award-winning playwright offers a contemporary view on the historical, biblical figure of history. He asks the hard questions about the role suffering plays in our lives, both positive and negative: Who is responsible for the suffering we endure? Is it God, Satan, ourselves or others? In this chaotic, overwhelming world of ours, is there sense to be made of all the senselessness? Is there help and hope to be found?
Tickets for the show are $10 for adults and $5 for students and seniors. Tickets are available at the door before each performance, or they may be purchased at sterling-college.ticketleap.com/jb/. Sterling College students and employees receive free admission with employee or student i.d.
Sterling College is a Christ-centered, four-year college located in Sterling, Kansas, with a mission to develop creative and thoughtful leaders who understand a maturing Christian faith. For more information, visit www.sterling.edu.