Sterling PD supports criminal justice major at Sterling College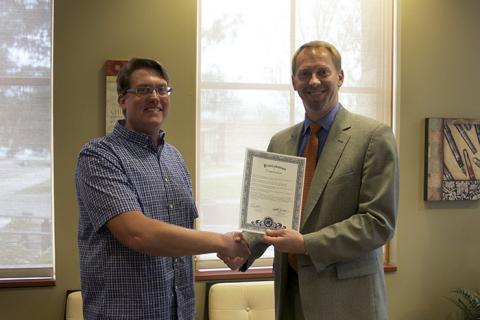 Wednesday, April 30, 2014
The city of Sterling and Sterling Police Department have agreed to support the Sterling College criminal justice major with the "intent to collaborate in enhancing the provision of criminal justice services to the citizens of Central Kansas." Sterling Mayor Jonathan Zimmerman met with SC President Scott Rich on Tuesday, April 29, to make the agreement official.
"[Sterling College] adding this program is beneficial to the College, and strengthening the College is good for the city as well," said Zimmerman.
Chief of Police Mary Kendrick has also been involved in working with the College.
"Sterling Police Officers are looking forward to working with the students that will be taking criminal justice classes. We are excited about the opportunity to work with Sterling College to see that the program excels. We as officers are also impressed with the classes Sterling College is offering with their criminal justice program," said Kendrick.
The new Bachelor of Science in Criminal Justice at Sterling College is set to begin in fall 2014 and is accepting new students into the program.