Student Finds Perfect Fit with Sterling College Online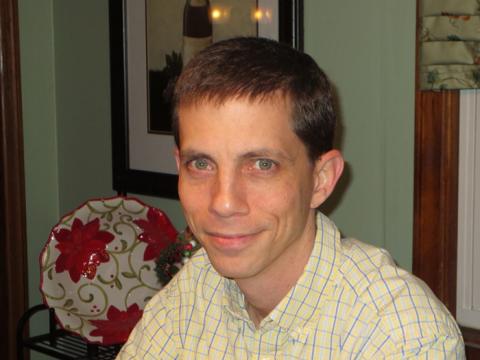 Christopher Stump, Salem, Va., had a specific idea in mind when it came to choosing an online college—one in which he could obtain a theological degree under the direction of a reformed theological perspective. While his search was somewhat difficult, he finally found Sterling College Online—a college that met all his criteria.
He dropped out of college in the late 1990s to marry his high school sweetheart, but promised himself he would finish college someday. Eighteen years later, the father of three was looking for a greater purpose.
"Right now I work as a service adviser for a large multi-line automobile dealership. It pays my bills, but I have no real passion for it any longer," said Stump. "That is why I'm attending Sterling—I hope to one day enter full-time children's ministry."
Stump is the large group program director for the children's ministry at the church his family attends.
"I get to go onstage every Sunday morning and tell the children about how much Jesus loves them, and I couldn't enjoy it any more if I tried," said Stump.
His involvement in church allowed him to discover the job he is passionate about, and inspired him to finish college with a degree in a religious discipline. Even though his ministry has been focused on working with children, he found one of the most beneficial classes to be Greek.
"I have gained a great amount of fundamental knowledge here at Sterling. Learning the basics of Koine Greek…has been extremely helpful to me," said Stump. "I have gained a greater appreciation for Scripture and the necessity of handling it properly. It's not just another book that we can paraphrase at will just to make a point. Each and every word is placed where it is for a very good reason."
Stump also appreciates the camaraderie he has found at SCO, both with his fellow classmates and his faculty.
"[My classmates and I have] never met face to face, but I have had enough deep conversations with them via the forums and such in our classwork that I think we know each other much better than any of us likely expected to," said Stump.
"[My professors] have been very quick to respond to even the simplest requests. Looking back to my original college experience from 20 years ago, I find these [professors] have been more accessible than most of my face-to-face encounters with my professors when I was a traditional college student."
Even more, Stump has appreciated his adviser's balance of discipline and encouragement. "My adviser was a great help as well," said Stump. "He was quick with constructive criticism when I asked for it and was also great to count on for edification on a job that he considered well-done."
Stump has been accepted to the Southern Baptist Theological Seminary as a candidate for the Master of Divinity degree, which he starts in fall 2014.
"I think the fact that I chose to return to college after 20 years in the regular workforce certainly helped my application be a good bit more visible," Stump said of how coming to Sterling helped him in his goal of getting accepted into graduate school. "I'm not sure I would have been accepted to seminary had I not already been a student here at Sterling."