Third Annual High School Forensics Showcase at State Fair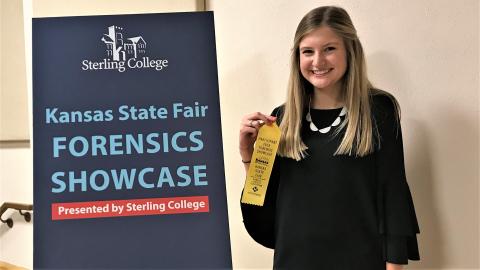 Tuesday, September 18, 2018
Kansas State Fair patrons were treated to some of the best competitive speakers in the state at the third High School Forensics Showcase, presented by Sterling College. The event was held on Thursday, Sept. 13, in the Hansen Auditorium on the fairgrounds and was hosted and organized by Sterling College Debate and Forensics. Over 550 audience members were in attendance.
"This was our third annual Forensics Showcase at the Kansas State Fair and we were very pleased with the turnout and response. We have a bigger audience and more participants this year. It was particularly encouraging to see some schools return and to have representation from 1A through 5A performing. There is no other opportunity to see examples of outstanding performances across all sizes of schools," stated Sterling College Forensics and Debate Coach Ken Troyer.
"One junior high class even attended. Sterling College alum Kacie Hastings, who is now teaching at Emporia Middle School brought over 30 students to the event to show her young students what forensics is all about," said Troyer.
Forensics is competitive speaking events which includes different types of speeches and different interpretation events such as poetry, solo acting and duet acting. The State Fair Showcase featured state champions and state finalists from last spring's championship tournaments. Each school classification (1A – 6A) has their own state championship tournament.
A total of 23 performances were shared during the Showcases' three sessions. Because the Showcase featured state champions from last spring's championship tournaments, some of the participants had graduated from high school and are in their freshman year at college.  
The event also drew forensics squads from several schools who did not have a participant in the showcase but who wanted to see the quality and examples of award-winning entries. After each performance, the audience had the chance to ask questions of the performers, providing an educational experience for all.
Sterling College Debate and Forensics has been ranked as one of the top 25 programs in the nation for the past eight years. In addition, the Sterling College team is the only one in the state of Kansas to qualify for both the American Forensics Association Nationals and the National Forensics Association Nationals.
Sterling's Gage Brookman '18 became the top speaker in the nation by winning the 2018 National Forensic Association Top Speaker distinction in Lincoln-Douglas Debate in April.
Sterling College is a Christ-centered, four-year college located in Sterling, Kansas, with a mission to develop creative and thoughtful leaders who understand a maturing Christian faith. For more information, visit www.sterling.edu.