Torey Wilson Student Spotlight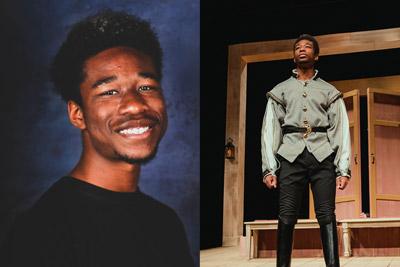 Why would a young man travel 1200 miles to attend a college he had never seen before and major in a field he had never experienced before? That's what Torey Wilson did in the fall of 2018. Coming from Rural Hall, NC to end up majoring in Theatre though he had never been onstage or worked backstage for a theatre production.
Now, four years later Wilson is completing his 16th show for Sterling College Theatre this weekend as the leading role and director of Red Velvet which will be seen Friday and Saturday at 7:30 pm on the stage of Culbertson Auditorium in Spencer Hall at Sterling College.
Wilson came to Sterling on faith. He had a good friend from his hometown who was attending, and they had both heard about Sterling College through their Worship Pastors at their home church. Marisa (Giorgetti) Callan and Brett Callan were his pastors. She is a Sterling alum and returned to her alma mater to lead vocal music and to officially get the Music Theatre program going with her Sterling classmate and friend Sasha Hildebrand who is now artistic director for Sterling College Theatre.
Wilson came to Sterling thinking he wanted to pursue Communications as a major but found the spotlight a lure. "Marisa and Sasha kind of forced me to audition for Cinderella," Wilson said. "They had a plan all along. Before I knew it, I found myself in every show my first year."
Wilson has been in every show since his freshman year as well. That is 16 shows in all – to date. He will add at least three more to his resume this year. Besides Red Velvet he will also be in the musical White Christmas and will play the leading role of the Doctor in Anatomy of Gray this fall.
Hildebrand said, "When you've been doing theatre as long as I have now, you tend to know when a person or student has something valuable for the stage pretty quickly. Torey had that instantly when I met him.  His charm and charisma were evident and even though he was a complete novice, you could see that he was going to be incredibly compelling to watch."
She adds that it was Wilson's drive to get involved and his willingness asked of him to on stage that really set him apart. Hildebrand said, "I've rarely had a student who was so resolutely committed to the productions, to the department, and to me.  When I see that kind of drive and that work ethic – it makes me want to become a better teacher – and Torey has challenged me to be that every time I work with him.  I have no doubt that Torey will succeed in this art form."
Wilson's first theatre experience was in the ensemble of the musical Cinderella where he played a horse and really didn't have any lines of dialogue. He began auditioning for every show and eventually found himself in the crucial role of Corey, the son in Fences, August Wilson's classic play about an African American family in the 1950s. The all-black cast was not only unusual for Sterling College it was unusual for any college or university. It was staged in early March of 2020, just days before the COVID pandemic shut Sterling College and every other college/school down.
"Fences has been my favorite cast," said Wilson. "All of us in the cast were African Americans, and everyone was new to theatre. We really bonded under Sasha's direction. We all became 'actors.' There was a real sense of community and a special experience."
His favorite role – so far – was Billy Bibbit in One Flew Over the Cuckoo's Nest, Dale Wasserman's play about men in a mental institution. "I feel like that has been my most detailed, in-depth performance so far," Wilson said. "He was a complex character, misunderstood yet strong. Billy helped bring everyone together and that's a role I play in life, too."
Early on Wilson assumed a strong leadership role at Sterling College Theatre. He's done props for many shows, as well as lights and sound for others. "I started doing things with the technical side of theatre my freshman and sophomore year. I find people naturally come to me with questions and look to me for leadership. Now that I'm a senior doing my own show it doesn't feel much different."
Wilson is a natural leader. He has been assisting the Sterling High School debate and forensics classes and started the Act One youth summer theatre camp for Sterling grade schoolers. "That was really critical for me to see that my vision could come to life," he said. Wilson also traveled to Georgia this summer where he led a day-camp for 550 theatre students from ages 11 to 18. "That was important to prove that I can do theatre outside Sterling," he said.
Wilson is thankful for his mentors and teachers he's had at Sterling. "Sasha continually pushes me to the next level. She never lets me be content with where I am. She believes in me, and I want to do my best for myself and for her," he said.
Technical theatre professor Stephen English has also invested in Wilson. "I'm thankful for Stephen, too, especially pushing my creative side. He always stresses and says, 'make a decision but give me a reason.' I've been blessed by them and many others here."
"I honestly feel God brought me to Sterling to find my purpose. The people, the experiences, the friends I've made and the ways I've grown. I'm extremely thankful for all," Wilson says.
His future plans include pursuing an advanced degree in theatre performance and finding opportunities to perform in summer theatre and other theatres. He and Hildebrand are checking out programs this fall before applying in the spring.
Seating to Wilson's production of Red Velvet this weekend is limited. The show is being performed in the round with the audience seated on the stage. Advance tickets are suggested and are available at www.sterling.edu/arts.
Sterling College is a Christ-centered, four-year college located in Sterling, Kansas, with a mission to develop creative and thoughtful leaders who understand a maturing Christian faith. For more information, visit www.sterling.edu.