Watney selected for seminar on Greek drama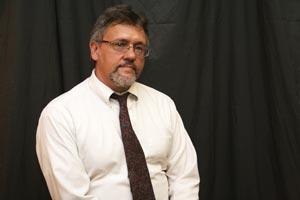 Assistant Professor of Language and Literature Mark Watney spent much of his summer reading and studying classical Greek plays as he prepared to attend a Harvard-sponsored seminar on Song Culture of Athenian Drama.
Only 20 professors were chosen from the 65 that were nominated throughout the Council for Independent Colleges. Sterling College was one of the three schools that represented the Council for Christian Colleges and Universities – the other two in attendance were John Brown University and Westmont College.
The annual seminar, cosponsored by Harvard University's Center for Hellenic Studies in Washington D.C. and the CIC, is led by Gregory Nagy, Francis Jones professor of classical Greek literature at Harvard, and Kenneth Scott Morrell, associate professor and chair of Greek and Roman studies at Rhodes College. During this weeklong seminar, Watney and fellow professors of theatre, music, English and history prepared presentations on 16 different plays by Aeschylus, Aristophanes, Euripides and Sophocles –four of the greatest dramatists of the classical world. The discussions focused on the performative aspects of the plays and their connections with contemporary movies, music and news.
"It was tremendous to learn from the other professors who were there," said Watney. "Hearing about ways in which these ancient plays could be reenacted in today's classrooms and theatres, and discussing the theological, musical and literary impact these plays have had on Western culture is fascinating."
Watney added that many of the topics dealt with in ancient Greece are very similar to today's culture, such as families dealing with infidelity, suicide, war, abuse and anger towards the gods.
"Yet each dramatist presents these problems in uniquely different ways, from Aeschylus' complete faith in gods to Euripides' cynicism and doubt in their existence," said Watney. 
Watney is looking forward to introducing these plays to his students in his upcoming classes on Western culture and literature and World Literature 1.