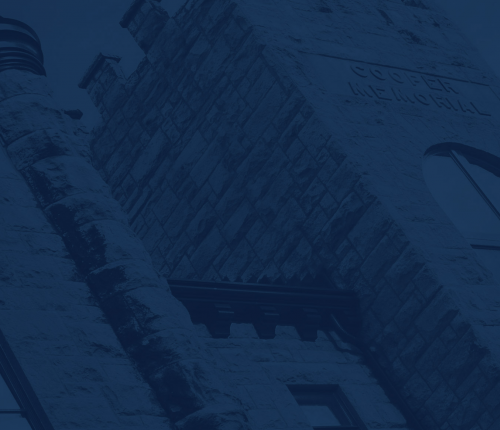 Institutional Profile
Sterling College is a Christ-centered liberal arts college that is on the rise. Recent years have marked good years for the College. Sterling's enrollment has grown each of the past six years and fall 2010 enrollment reached 736, an all-time high in its 123-year history. Recent years have seen the transformation of many aspects of the College, providing the foundation for an exciting future. The College created Sterling College Online in 2007 to offer an on-line degree completion program. The program currently has 77 students and envisions substantial growth.
On May 1, 2013, Scott Rich was named the 12th president of Sterling College. He will lead the institution towards the five year strategic initiative focused on strengthening the academic program core, enriching the student experience and developing the institution's infrastructure. 
The physical campus has experienced numerous upgrades in recent years. A new library was built in 1995. In 2003 Cooper Hall, Sterling's beautiful four-story limestone signature building, was completely restored. Two new residence halls were completed in 2006. In 2008, the football field and track underwent total renovation. Other significant upgrades of buildings and grounds have also been achieved in recent years.
In December 2009, the College hosted its decennial reaccreditation review and received the strongest accreditation verdict in over four decades.
Sterling College has a long history of graduates who have gone on to significant roles of leadership. Sterling has graduated five college presidents, and has a rich history of graduates who are physicians. Over the past forty years, Sterling graduates have a 94% acceptance rate into medical school. Sterling has also graduated a large number of pastors and missionaries that serve nearby and on five continents around the world. Thousands of alumni are educators, and there is an unbroken string of Sterling graduates who have served for nearly seventy years on the Wichita, KS district court bench. Sterling has 9,200 living alumni. As a school that emphasizes and overtly teaches servant leadership, Sterling is proud of its alumni who manifest this at home and in the marketplace.
The College's core statements are as follows:
Our mission: To develop creative and thoughtful leaders who understand a maturing Christian faith.
Our vision: To be recognized as the finest Christ-centered, servant leadership development-focused, liberal arts experience in the Great Plains.
Our core values: In active, vital partnership with church, community and strategic partners, and ever striving for first-class quality in all that it does, the Sterling College community will be guided in all its work by the following intrinsic values:
Faith: Faithful discernment of and response to God's self-revelation in Christ in Scripture.
Calling: Faithful discovery and pursuit of each person's particular calling in life.
Learning: A love of learning and a dedication to the pursuit of truth.
Integrity: Integrity in scholarship, the arts, athletics, and all other co-curricular activities.
Service: Faithful practice of redemptive servant leadership involving a vision of wholeness in a broken world.
Community: Mutual respect amid diversity as members of the body of Christ.
Our Statement of Faith: The board, faculty, administration and staff possess an active and visible Christian faith which encourages the entire campus community in our pursuit of a wholesome and practical Christian life. We personally trust in and collectively bear witness to the one, eternal God, revealed as Father, Son and Holy Spirit.
We believe in God the Father who created the heavens and the earth.
We believe in God the Son, Jesus Christ, who was conceived by the Holy Spirit and born of the Virgin Mary. Jesus suffered, died, and was buried. He rose from the dead. Jesus ascended into heaven and remains with the Father and the Holy Spirit to judge the living and the dead. Jesus Christ alone is the way, the truth and the life. There is salvation in and through no other.
We believe in God the Holy Spirit who is the comforter, sustainer and sanctifier of all who profess faith in Jesus Christ as Savior and Lord.
We believe that humanity has hope for redemption from sin by Jesus Christ's life, death, and resurrection. It is by God's grace alone that we joyfully receive our salvation through a personal faith in Jesus Christ.
We believe that the Bible is God's revealed Word. It is authoritative and infallible in all matters of faith and practice.
We believe that the Church is the body of Christ and God's witness in the world.
We believe that Jesus Christ will return and claim his own, ushering in the new heaven and new earth in which righteousness will dwell and God will reign forever.
Located in Sterling, Kansas, Sterling College is an hour northwest of Wichita, the largest city in Kansas. The city of Sterling offers public schools with a strong academic reputation, including a brand-new elementary school and a high school undergoing major renovation, affordable housing/cost of living, and a high quality of life.