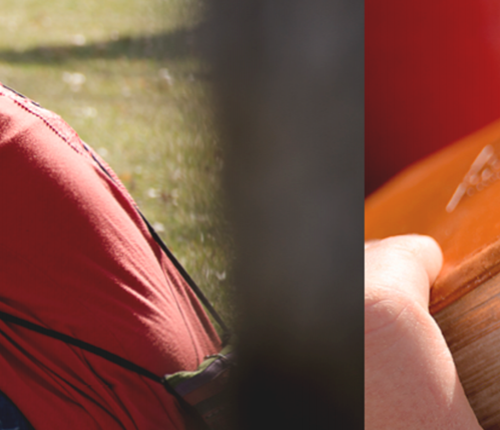 Our Stories - Dixie Carpenter
Dixie Carpenter lived in McCall, Idaho, when she received a Sterling College postcard in the mail.
"They supported music, they had ultimate Frisbee and I could take Bible classes on the side. I suppose that, combined with some wanderlust, attracted me to Sterling College."
Unfortunately, she wasn't able to visit campus before deciding to attend Sterling, but she formed a relationship with her admissions counselor over the phone and enjoyed their conversations. She felt Sterling College had built a better relationship with her than any other school she looked at attending.
Carpenter came to Sterling College as a pre-med major, but fell in love with missions after she went on a trip to Ethiopia at the end of her freshman year.
"That experience really changed my perspective of what missions is because we weren't there to solely evangelize as much as we were there to encourage Christians already living there. We worked with people who were outcast because of a curable disease and tried to encourage them as they were healing. We shared the Jesus film – I had never experienced anything like that before. They didn't advertise or invite people. [Those in town] just saw that they were setting up a movie and came to watch. It was a really neat experience."
Her trip to Ethiopia was just one of the ways that Carpenter has grown spiritually. Hindsight allows her to see the spiritual journey she traveled and is grateful for God's unfailing love.
"Throughout my four years I have dealt a lot with my relationship with God. I've learned about the extent of God's love. I've met people who are willing to talk about His love for me and pray for me – that was something I had never really experienced before. I then went through a time of questioning my faith, and I felt called back through a worship song. God has been faithful to me even when I am not faithful."
Carpenter changed her major and is graduating with a degree in biblical studies with a concentration in New Testament studies. She wants to be involved in missions to some extent but is not sure it will look like the standard definition of full-time missions.
 "I now have skills to study Scripture and find the key truths in it. I think no matter what I will be doing next, I have the ability to be a missionary in the form of taking part in ministry to build relationships with people."
Her time at Sterling College has also expanded her definition of family. Living so far away from home, Carpenter was only able to go back to Idaho for Christmas and summer breaks. Luckily, she has found several friends whose families have been excited to adopt her for Thanksgiving and spring break. Although spending time with them isn't "just like home," she has appreciated their hospitality and grew from the experience. 
"Sterling has really given me a lot of confidence. I have been able to live on my own in many ways and it taught me a lot about accepting myself and accepting other people. I know that I can do my own thing and it is going to be alright; I don't have to worry about what other people think. I am confident in who I am and what I have become."