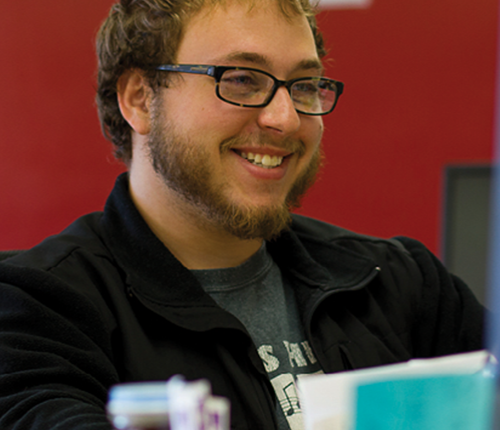 Our Stories - Cody Green
Cody Green was no stranger to Sterling College before attending as a full-time student. Throughout high school his theatre teacher, Greg McGlynn '87, took Green and his classmates on many theatre-related Sterling College visits. Green was attracted to both the talent at Sterling College and the community-feel surrounding campus.
Once a student, Green quickly became involved in multiple campus clubs and began a double major in theatre and art and design. He participated in Art League, Theatre at Sterling College, and Student Government Association, serving his junior and senior years. He also worked for admissions and the marketing office.
Green's involvement on campus allowed him to learn more about what it means to love and serve people.  
"Through my conversations with people and opportunities to help them, I found each person has different needs and that it is essential to communicate with many different types of people as well." 
Green's majors have kept him busy. His experience in theatre has allowed him to grow in acting and knowledge of behind-the-scenes work, but most importantly, has taught him to open up to people through the roles he is playing.
Art and design has built his confidence as an artist and strengthened his ability to express himself through his work. Green, however, will take more than just life experiences with him when he leaves Sterling: he will take friendships and a more mature Christian faith.
"I am more secure in knowing that everything in my life has happened for a reason, and that the relationships God has put in my life have taught me a lot and helped build me up. Bible studies, chapel and mission trips have given me an opportunity to learn what it means to be a Christian and how we live our lives as a follower of Christ."
"I learned a lot through community with other Christians. The friends I have created here will carry me through life. I will know them and love them the rest of my life."
Green will graduate with majors in theater arts: performance and art and design: graphic design. After college, he plans to get a job in either of the two fields.