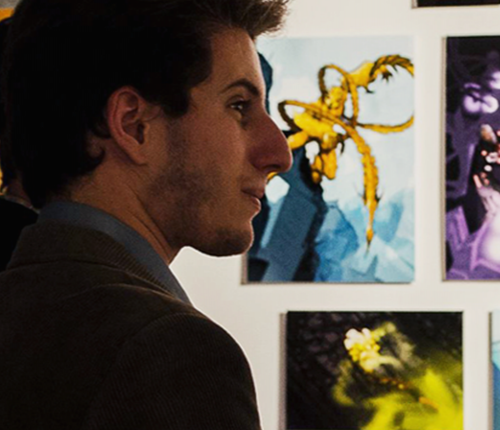 Our Stories - Lucas Knauss
When Lucas Knauss visited Sterling College, he had very little idea of what he was looking for. Home-schooled from second grade on, he knew he wanted to attend Christian college and enroll in a quality art program, but he did not know which colleges would offer that program.
On his walk through the campus, the community and atmosphere of the campus appealed to him – as did the friendly and helpful administration. "It was a relief, I didn't have to figure out everything on my own."
While at Sterling College, Lucas continued with his dream of art, through an art major and concentrations in illustration, photography and graphic design. Sterling also encouraged him to grow and mature spiritually and socially. He learned time management skills–not the usual type, but how to ignore work to make himself have fun to counter his overworking tendencies.
His junior year, Lucas became the director of campus activities.
"The spiritual change I've had at Sterling has been huge. I learned to love people around me before pushing my opinion on them, as I was really outspoken when I first got here. It doesn't matter if you have an opinion until you have people you can make an impact on."
"It's all about love. Not just learning to love my neighbor as myself, but learning to love my neighbor instead of myself."