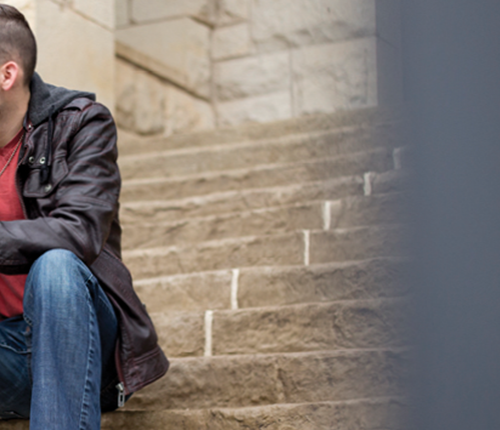 Our Stories - Tate Strasner
Everyone has a unique Sterling College story, but many start with a visit to campus or meeting someone from Sterling College. That's how Tate Strasner of Mount Hope, Kansas, came to Sterling.
"I was at an HCC college fair, and I was looking around at colleges that were Christian-influenced or Christian-focused, and I saw a table from across the room that had this little statue of Jesus on it. It was at the center of their table, so I definitely had to check it out. I went over there and I met Sasha Hildebrand '03 and Carrie McGlynn, and I thought, 'If everybody at Sterling is as incredible as these two, I definitely want to go and visit.' They set up a visit for me, and I came and knew it was the place for me the second I set foot on campus."
His time at Sterling helped develop his passion for ministry through figuring out what his calling was and develop his strengths and gifts as he prepared for a full-time position. While a student, Strasner served as a youth minister in Mount Hope and earned a degree in Christian ministries: youth. It is his connections with people, however, that have been most influential in his growth.
"The people here make the College. I have met friends here who have been with me through some really rough stuff. Friends who have always pointed me back to God. Friends who have encouraged me and shaped my faith. Professors who have been there for me whenever I needed to go and ask questions or talk to them about something. Professors who have given me all kinds of helpful resources for my youth ministry."
"I've learned the value of investing in people in close relationships and how God works through those relationships. Each person brings out something different in us, and that is definitely what I have seen here at Sterling. I've learned a different aspect about God from each person that I have met here, and that is just a really beautiful way that the Kingdom works."
"There is something about this place that brings out a side of people that is filled with connection. Everything we do here is about community. We have worship services twice a week, every week. We have a cafeteria where we all eat together. Things are designed for us to connect. We have an RD and RA's in every dorm that are there specifically to create community within the place. And that's my favorite thing about Sterling is that out of a love for Jesus and what His will is for his Kingdom – and that is unity – Sterling has taken such a great job of making that possible for so many different people. …It's really cool to see how this place brings people together and how it has brought me into something that is a lot bigger than me."
Strasner is currently pursuing a job in youth minsitry where he can work with youth and their families.