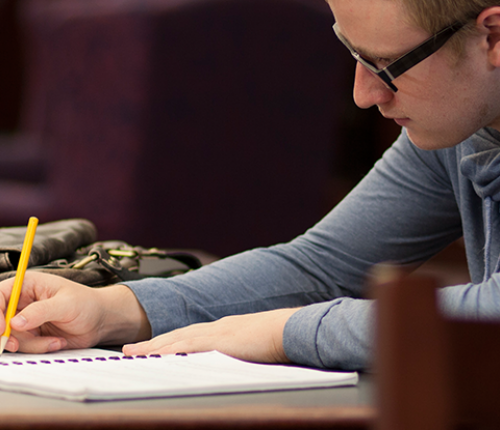 Writing Center
Our Mission
The Sterling College Writing Center exists to help students from all disciplines to become more skillful and confident writers. We work in a collaborative and supportive way to ensure that each student receives the specific assistance they need. We also strive to make our sessions applicable to potential work, both academic and professional, in the future.
Where to Find Us
The Writing Center is located in Mabee Library, just past the Computer Lab. Hours vary each semester, so consult the office for a posted schedule or contact Academic Support at 620-278-4463.
What to Expect
The Writing Center works primarily through dialogue and conversation. During your 30-minute session, you will discuss questions or concerns you may have about your work. Together with your peer tutor, you will set a few specific goals for the session. These goals could range from developing and refining your thesis, to reorganizing the logical structure of your paper, to improving clarity through word choice and sentence structure.
During your session, your tutor may offer suggestions, provide you with writing tips, explain grammatical rules, notice patterns in your writing, refer you to resources, and so on. Your tutor will expect you to engage actively in the session by asking and answering questions, discussing issues, developing ideas, and taking notes.
It is important to remember that the Writing Center exists not as a "quick fix" for your already-finished paper—we want to work with you through the writing process so that you can develop as a writer and take responsibility for your work.
What to Bring
You should arrive at your session with your assignment prompt and two copies of your most recent draft of your work. Coming prepared with a few questions or concerns about your work is helpful, but we're happy to assist you in figuring out what questions to ask as well!
Even if you haven't started writing at all, you can still come to the Writing Center—we'd love to help you brainstorm and lay out a plan of action! Most of all, come prepared to receive advice and think through your work.
Citing
Writing Essays and Grammar