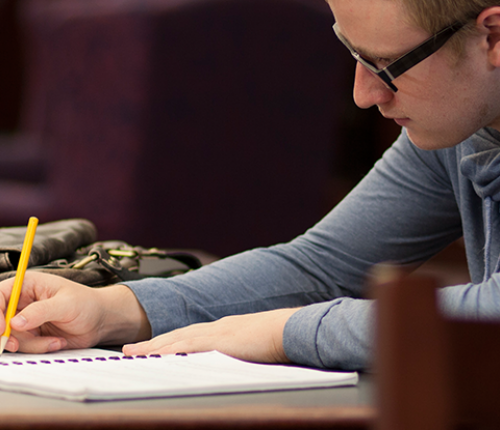 Writing Center
Our Mission
The Sterling College Writing Center exists to help students from all disciplines to become more skillful and confident writers. We work in a collaborative and supportive way to ensure that each student receives the specific assistance they need. We also strive to make our sessions applicable to potential work, both academic and professional, in the future.
Where to Find Us
The Writing Center is located in Mabee Library. Please come by the Office of Student Success to set up a time with a writing tutor.
How it works
On-campus writing help
You can choose to meet in person with one of our on-campus writing tutors or you can use our 24/7 Tutor.com services. If you are meeting with an on-campus tutor please bring your most recent draft of your work and any questions you may have. If you need help getting started, we would love to help you brainstorm some ideas.
Online writing help using Tutor.com
You can access Tutor.com through your Canvas portal" and add steps:
In the bottom left corner of your Canvas portal, select "online tutoring"
In the topic section, select "writing" and in the subject section select "Live Writing help" or "ESL writing support". This will connect you with a live person to help you with any questions you may have.
Paper Review
If you don't want to talk to a live person, but you want someone to read your paper, you can select "Submit a paper for review" at the top of the Tutor.com page. Here you will submit your work and receive feedback on how to improve your work within 12 hours.
What to Bring
You should arrive at your session with your assignment prompt and two copies of your most recent draft of your work. Coming prepared with a few questions or concerns about your work is helpful, but we're happy to assist you in figuring out what questions to ask as well!
Even if you haven't started writing at all, you can still come to the Writing Center—we'd love to help you brainstorm and lay out a plan of action! Most of all, come prepared to receive advice and think through your work.
Citing
Writing Essays and Grammar