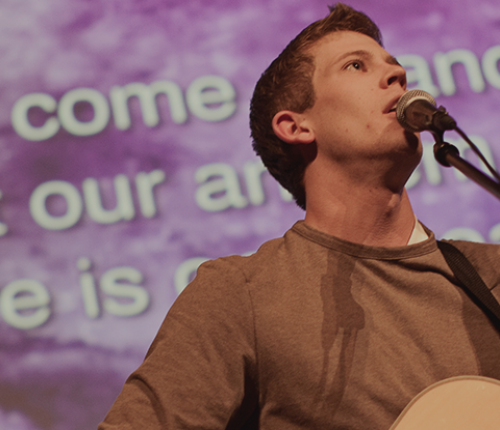 Ministry Teams
The purpose of Sterling College Ministry Teams is to equip and develop college students with leadership experience in ministry, to support ministry leaders, and to educate church congregants and high school students about Sterling College.
Ministry Teams Member Roles
We welcome students in any academic department to pursue interest in being involved in the Sterling College Ministry Teams. Ministry Teams have a plethora of roles available. Some team members will be using their musical gifting while others will use their oral interpretation of prose and poetry skills. Others students will get to exercise their abilities at running production technology or using their talents in art and design. There are not a set number of specific roles, but we like to have the team be made of students with talents in any of these areas: photography, graphic design, hospitality, singing, worship leading, theatre arts and oral communication, audio and visual technology. If a student has a gift that is not listed here but would be interested in participating in Ministry Teams, please contact Jenny Bradley, Director of Ministry Teams, jbradley@sterling.edu.
 
Ministry Teams Scholarships
Scholarships are available for new students to Sterling College Ministry Teams. These scholarships are applied towards the student's tuition. Scholarships are awarded through an application and audition process in conjunction with the Sterling College Admissions Office. (Ministry Teams Application is linked below.)
Ministry Teams Member Schedule 
Ministry Teams "season" is the entire school year. Much like an athletic team, Ministry Teams members are expected to participate in all our regular rehearsal and team building times. Ministry Teams meet as an entire group Monday nights, Thursday nights, and for various practices as needed through each week. Team members should expect to travel to area churches to lead ministry for church services and special events on Wednesday nights and/or Sunday mornings several times each month as well as occasional daytime outings to nearby schools. The group also leads events on the Sterling College campus regularly. 
Churches and Schools 
We'll be glad to connect with you about our Ministry Teams leading worship services or special events for your church or school! Please email our Director, Jenny Bradley,
jbradley@sterling.edu
.
Being in Ministry Teams
"Ministry Teams has become my family. It is my safe place where I can learn and grow in my walk with Christ, my leadership abilities, and in my social skills through the opportunities presented to me. It is the chance to pour into others' lives and allow your life to be poured into."
-Britt Bowman
SC Freshman
Major - Christian Ministries (emphasis in Youth Ministry and Worship Leadership)
"I love how Ministry Teams is teaching me about youth ministry, which happens to be something I hope to be a part of in the future. I really enjoy the fact that we have the opportunity each time we go out to encourage people to grow in their faith."
-Austin Mettling
SC Sophomore
Biology (Physical Therapy track)
"Ministry Teams has helped me get to know other people on campus as I just recently transferred. Through these friendships I have seen others grow in their faith and serve others which has helped me to grow in my faith."
-Micah Oelze
SC Junior
Communications (emphasis in Cinema Production)
"The Lord has taught me so much through Ministry Teams. Because of Ministry Teams I've learned more about humility and being a part of an uplifting, godly community. My teammates, as cliche as it sounds, have become my family."
-Summer Stanley
SC Sophomore
Christian Ministries/Educational Ministry